There are hundreds of manufacturers and different models of trombones, so choosing the top trombones is difficult. It depends on the individual. The Yamaha YSL-354 is the top recommendation on our review list because they geared it toward the beginner student. Remember, a durable, easy-to-handle instrument that emits a full sound is essential to the initial musical experience. The trombonist may abandon the instrument if the initial experience is not fun.
Top Pick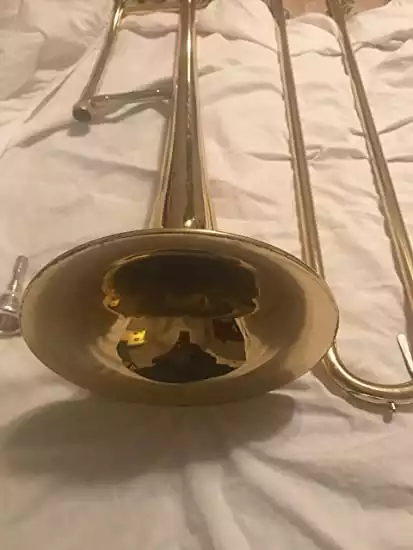 The Top Two Mistakes Beginner Trombone Players Make
First, with new trombone players, one of the biggest hurdles is maintaining/cleaning the instrument. A LOT of spit goes in ????  so it can be tricky to develop good cleaning techniques.
Make sure you have brushes, cleaning rags, etc. to clean with. Too much moisture/dirt inside the instrument will affect the playing condition over time. See this article for some products to keep brass instruments clean.
Second, the other HUGE factor for beginning students is to practice "buzzing" on just the mouthpiece as much as playing the whole instrument. Playing trombone takes a lot of air, so practicing on just the mouthpiece can help strengthen the embouchure (mouth muscles) without using as much energy.
This horn is easy to play, delivers excellent sound, and will last for generations. It is no wonder so many music teachers and players recommend it.

Check on Amazon Search Used

Balanced design makes learning the instrument more comfortable.

Check on Amazon Search Used

High and low ranges all are better and equal – making this instrument easy to play. The Shires Q's very rich and full tone also makes a sound that is hard to beat.

Check on Amazon Check on eBay

Plays very freely through the open wrap valve section.

Search Used Check on Musician's Friend
Choosing a Trombone by Type
The three most prevalent types of trombone are the straight tenor, the F-rotor or F-attachment trigger-type tenor, and bass. Valve, alto, soprano and marching trombones are not as common, but many musicians enjoy them. Here's more information on the top trombones:
Tenor
The most widely played trombone. The standard bell size, bore, and tubing are between an alto trombone and a bass trombone. A tenor trombone has a midrange tone, allowing it to stand out in a jazz or brass band.
Bass
Has a wider bell and increased bore that helps create a deeper, richer tone. Longer tubing and extra rotary triggers are standard on bass trombones. They also help the instrument reach lower pitches. Orchestras and bigger jazz bands include bass trombones to enhance their low end. Bass trombones pair well with the tuba.
Alto and Soprano
Attains higher octaves, which may be incorporated into trombone choirs or orchestras.
Valve
Adds a distinct sound to arrangements. Valve trombones have no slide and function like a trumpet. Since there's no slide, players can't slowly move into notes. However, jazz musicians who like to hit notes quickly readily adopt the valve option.
Dual-Bore
Often preferred by more advanced musicians. The slide is smaller on one side and graduates to a larger diameter on the other. Players experience more initial resistance from the narrow bore to open up for a bigger sound.
Plastic
Relatively new with easy slide motions, these are colorful and lightweight. Easy to care for, these are more affordable for beginners. Also, the material doesn't compromise sound quality. In fact, the sound is close to that of traditional brass trombones.
If you are still unsure which type of trombone you need, here's more on the essentials of trombone anatomy.
A Word on Lacquer Finishes
The top trombones come with varying types of lacquer finishes. While higher-quality plated finishes have a less-dampening effect on vibration, many musicians prefer silver-plated horns. Although they are showy, they tarnish and require more maintenance to keep them looking new.
While there is no significant difference in sound quality, a flashier-looking horn is a source of pride for the owner. And an attractive instrument may also prompt a beginner's commitment to practice and instrument care.
Trombone Tips for Beginners and Students
Many schools offer rental instruments or have rent-to-own programs for beginner and student trombonists. However, these instruments are not generally of the best quality. On the other hand, spending a lot of money on a trombone doesn't always guarantee you will get one of the top trombones. A trombone can expensive just because of the materials, while the sound may not be as good as another trombone with a similar price tag.
Most brass instruments are durable and can last for decades with sensible care and cleaning. But consider how you plan to use the instrument. Will you use it outdoors in a marching band, or indoors playing in an orchestra?
Also consider how long you plan to use the instrument. For students or beginning players who have little desire to pursue a professional music career, there are many quality student model trombones on the market. These cost-effectively provide the player with a full music experience.
Key Questions to Help You Choose From the Top Trombones
Before buying any instrument, parents of music students and beginner trombonists should ask:
What type of music or genre do you plan to play on your horn?
How big is your budget?
Do you plan to purchase new or used, or will you rent an instrument?
How long do you intend to play the instrument?
When do you plan to purchase or upgrade to another horn?
What are your trombone goals? Do you intend to play professionally?
If a bass trombone is your choice or do you want in-line or dependent valves?
It is best to try out several horns before buying one. Experience how the horn feels and sounds. Check to see how it is balanced. Most importantly, see how comfortable and fun it is to play. Visiting a local trombone dealer is the best place to start.
New instruments typically come with a warranty. However, many dealers also sell used trombones you can buy for less than the full price of a new one. Buying used instruments online doesn't let you try or inspect the horn's overall condition before you buy it. Many horns don't come with a case. Others may have a flimsy case that doesn't protect the instrument from weather and damage.
Intermediate Horns Provide More Note Flexibility
Intermediate level trombones differ from beginner and student instruments by their full-sized .547 bore and mouthpiece that suit it. They also have an F-attachment for more note flexibility. Students may consider upgrading their beginner model trombone if they are still interested in playing in the 8th to 9th grades. An intermediate horn offers the serious player an opportunity to more than just fit in with other players.
Intermediate, large bore horns are the top trombones for orchestras or concert bands. You can still use your student model trombone in a marching band. This will protect your intermediate horn from damage. The smaller bore, student trombone also works well for first or second trombone in a jazz band.
Reaching a Higher Level with a Professional Horn
Most professional tenor trombone players play without an F-attachment. A modern trend among many orchestral players is to play trombones that are extremely heavy. Heavy horns offer some advantages but are less flexible when you play them softly.
There are many popular custom fine instrument makers, but some trombones lack the flexibility to create a unique voice. So it is up to the more experienced trombonist to find the instrument whose sound reflects their personal musical nuance.
Custom Valves
Custom valves also enhance the horn's sound. There is a variety of custom valve for you to choose from, too. The best choice is the valve that sounds the best to you. It is equally important that they are reliable and perform well for a reasonably long time.
Axial-flow valves, standard rotary valves, Hagmann and Greenhoe valves, and others may appear reliable. But they may bind up or lose tension over time. Common rotary valves seem to be the most reliable on the market and offer the best sound in the top trombones.
Frequently Asked Questions
Here are some common questions and answers to consider before you invest in one of these top trombones:
How do I choose the right trombone for me? 
Cost, budget, and how long you intend to play the instrument matter when choosing your instrument. Consider your skill level and the type of music you want to play. Remember, a horn's bore impacts the sound. For example, brass trombones with .562 inch bores have an enhanced low end. Symphonic trombonists use larger .547 inch bore trombones.
What is the best brand to buy?
Choosing the best brand of trombone depends on your budget, the music you play, and your level of experience. Reviewers suggest King trombones for beginners, and a Bach Stradivarius for concerts, symphonic, marching or gigs. And when cost is no object, a Getzen or Edwards. Conns are popular, and Yamahas are reliable and consistent.
What are the top trombones for beginners?
Beginners and students may start small with a less expensive, durable, smaller bore, straight tenor horn. Look for a small bore trombone between .500 and .525 inches.
What is the difference between a small bore and large bore trombone?
Although a large bore instrument tends to have a full, resonant sound, it requires more air and work on the part of the trombonist. Student and beginner trombones are smaller bore instruments that require less air to produce a good sound.
What are the top trombones for students who have been playing several years?
Intermediate students typically, but not always, upgrade to a more flexible tone, fuller-sounding, medium bore F-rotor/F-attachment with step-up features when they reach high school. Before upgrading, consider how long you plan on keeping the instrument. Also, the F-rotor horn plays the same as a straight trombone if you don't use the trigger.
What is the best intermediate/professional horn for someone who wants to make it their profession?
Shires Q-Series, Conn, Bach, and Yamaha are well-known and reputable trombones that will last quite a few years. For the greatest satisfaction, consider a tenor or alto Bach. Later, upgrade to a brass, Bach or Conn F-attachment large bore, or a medium bore Yamaha.
Will removing the lacquer alter my horn's sound?
This is a long-debated issue. Manufacturers lacquer new horns when they make them. Yes, removing the horn's lacquer will modify the sound. Some players contend that leaving the brass exposed ensures you get the most natural sound from the instrument.
A Little More on Lacquer
Lacquer coats the instrument in a non-resonant plastic, which helps protect the brass from tarnishing. The lacquer also makes it easier to maintain and keep the horn clean. It is also a safety measure to prevent brass poisoning for those that may be sensitive or allergic to brass metal.
While the horn's basic sound characteristics remain the same, the lacquer coating tends to mute the overtones. On the other hand, silver plating over the brass will also modify the sound, since silver plating over the brass makes it vibrate faster, resulting in a slightly perkier sound. So, the decision to leave it or remove the lacquer depends on the sound you want to achieve.
The Competition
After hours of testing and research, here's the final competition.
Top Pick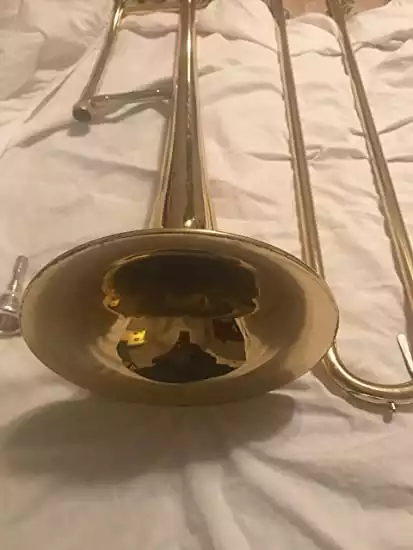 Professional Quality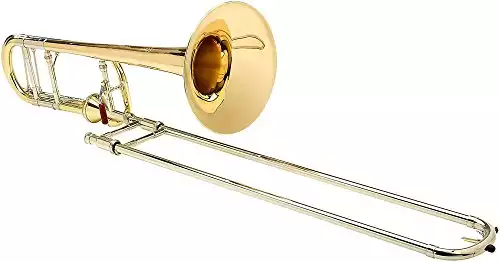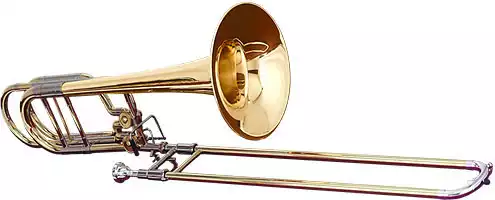 The Yamaha YSL-354 Tenor Trombone for Beginners and Students is a standard Bb tenor trombone. This standard, clear-lacquered, yellow brass, .500-inch bore, tenor model has most of the features and qualities of Yamaha professional models, but at an affordable price.
In terms of build quality, the Yamaha YSL-354 is well-built and consistent, which is typical of Yamaha instruments. The slide is smooth and easy to use, and the tone is consistent across all registers. There are no major intonation issues, although intonation can be tricky to test accurately since you can only really test the open partials.
One notable feature of the Yamaha YSL-354 is its pedal tones, which I would describe as "barky." The low register speaks nicely, although the high register can be a bit stuffy. Using a shallower mouthpiece, such as a Blessing 6.5AL, can help improve the high register and make the high notes easier to play, although it may result in a brighter sound. The mouthpiece choice will depend on your preferred playing style, whether it's classical or jazz, or something in between.
It's also worth mentioning that a variant of the Yamaha YSL-354 called the 354V, functions as a valve trombone. If you're not interested in learning the slide, you could purchase both the slide and valve sections and have two different horns in one.
In terms of the case, the Yamaha YSL-354 comes with a standard Yamaha hard case with three latches on the top. It has compartments for the bell section, slide section, and other trombone essentials, although you may need to invest in a mouthpiece pouch separately.
Overall, the Yamaha YSL-354 is a versatile student-model tenor trombone suitable for beginners, high brass players transitioning to low brass, and euphonium and tuba players looking to learn trombone. It has a consistent tone, smooth slide, and good build quality, which are typical of Yamaha instruments. Mouthpiece selection and finding the right balance between high and low notes and classical and jazz playing styles will be important considerations when playing this trombone.
The YSL-354 is one of the top trombones to use as a marching band horn when you upgrade to a professional model. It can resist the dings and damages of outdoor use.
Top Pick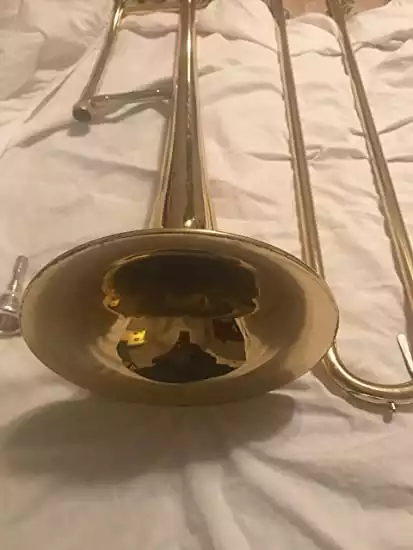 It has a one-piece, eight-inch yellow brass bell. It includes a 48-medium shank mouthpiece, gold brass leadpipe and nickel-plated pistons and rotors. This horn is easy to play and delivers excellent sound. Many music teachers and players recommend it because of its superior Yamaha workmanship.
The YSL-354 horn has a chrome-plated nickel silver inner slide. The outer slide is a brass drawn one-piece slide (if you purchase a European model, the outer slide is nickel silver).
Even if the trombonist never elects to become a professional player, this instrument will last for generations. There are no known cons, so here are the pros.
Pros
Affordable price
Durable
Lightweight
Good balance weight
Consistently rich tone quality
Quick tone production
Slide lock
Online trombone owner's manual
Yamaha manufacturer's warranty
Other Trombone Models to Consider
The Yamaha YSL-882O Xeno Series F Attachment Trombone is a well-respected, standard-weight, Bb/F symphonic style, Xeno Tenor trombone. Yamaha designed it with input from professionals. It also features a standard open F-attachment wrap.
This clear, epoxy-lacquered, yellow brass, medium .547-inch bore, tenor model offers professional features and options at an affordable price. It has a Peter Sullivan Replica Series large shank mouthpiece and a fixed, yellow brass leadpipe. This trombone has hand-lapped pistons and adjustable rotors with mechanical linkage.
The larger, one-piece, 8-2/3 inch, hand-hammered, yellow brass bell produces a melodic, open sound with a solid resonating core. The bell features a lengthwise axial seam, which allows unrestricted vibrations to resonate through a continuous extension of the materials. The Yamaha YSL-8820 model offers a gold brass bell option, as well.
What makes this horn one of the top trombones is its narrow handslide. It has a drawn, chrome-plated nickel silver inner slide. The outer slide is a yellow brass drawn one-piece slide. And the handslide crook consists of yellow brass material.
Players report this professional horn has an overall clear tone and open sound. It is also easy to play. While the horn is heavier, as some professional symphonic horns are, the balance is perfect. The YSL-882O has an incomparable slide movement, so it plays well in every register with nice overtones and slotting.
Pros
Well-balanced; counterbalance weight
Narrow handslide
Quick, open wrap, response
Slide lock
Compact, contoured case
Online trombone owner's manual
Yamaha manufacturer's warranty
Cons
The Bach 42BO Stradivarius Series F is a professional Bb/F Bach Stradivarius symphonic model that projects full, undistorted sounds. It features an open wrap, standard valve, F-attachment design for less resistance. The rotor section tubing design has larger, fewer bends for a truer sound and less blowing resistance.
This Bach is a clear, epoxy-lacquered, yellow brass, gold brass or sterling silver, medium .547-inch bore horn. It's a durable intermediate to professional upgrade instrument, as well. It includes a Bach 6.5A, large shank mouthpiece and a fixed, yellow brass leadpipe.
Bach's larger, one-piece, 8-1/2-inch, hand-hammered, yellow brass, gold brass, or sterling silver bells produce an unrestricted full, projected sound. So the shape of its bell flare, material thickness, and one-piece construction improve the sound. Also, the softer gold brass bell with a higher copper content produces a warmer tone. And the Sterling Plus bell produces a large range of overtones or partials for focused sound.
You can order special heavyweight gold or yellow brass bells, too. They produce undistorted low, dark qualities or high vibrant, forceful sounds. Bach offers a standard yellow brass handslide, as well as a lightweight handslide of corrosion-resistant nickel silver. The lightweight slide has nickel silver tubing on the outer slide tubes, responding quickly.
The Bach 42BO professional horn has a uniform tone and less air resistance than traditional wrap trombones and large bores. This instrument belong on this list of top trombones emits a huge sound that can fill a hall. Yet it blends well with other instruments, easily adapting to a wind band or orchestra. It also performs well at extreme dynamics.
Pros
Lightweight handslide
Smooth, quick valve action
Quick response
Rich sound; excellent tone quality
1867 deluxe wood shell case w/attached cover
Silver Plating finish available by special order
Cons
Rather expensive
May want to upgrade the mouthpiece
The Conn 88H Symphony Series F Attachment Trombone is a standard Bb/F, low bass, tenor trombone. It has gained popularity as a professional symphonic trombone. It is one of the top trombones because it can sustain sound quality even at extreme dynamic levels. The Conn 88H features the standard wrap, standard rotor valve, F-attachment design. It has a Conn 5G large shank mouthpiece, fixed, yellow brass leadpipe and adjustable thumb lever.
This clear or silver-lacquered, large .547-inch bore, tenor model incorporates the new 8-1/2-inch Generation II thicker yellow brass/rose brass or sterling silver bells. These bells add stability and clarify the tone even during loud playing. Rose brass offers warm and malleable tones. Yellow brass is harder and provides more sound projection.
Sterling silver bells are more expensive. But they provide more sound and clarity, and a quicker response. Conn also offers a lighter bell with a smaller bell throat and medium taper. It responds faster so players can change tones from bright to darker effortlessly. It comes with both open and traditional F-attachments.
The standard weight hand slide is available with three removable leadpipes. It consists of softer bronze/rose brass outside slide tubes with nickel trim and a nickel silver end crook. The Conn 88H is a good solo or conservatory environment instrument. The horn has a chrome-plated nickel silver inner slide tubes. The outer slide is rose brass.
Reviewers like the Con 8H's range and tone versatility. In a low register, this horn produces a brassy but powerfully rich, tone. Changing the mouthpiece to a smaller shank and using a high register creates a sweet, delicate tone. The slide action is smooth and quiet, too. The only con is the brassy tone in low registers.
Pros
Versatility due to interchangeable leadpipes
Narrow slide
Smooth slide action
More responsive and better projection
Wood shell case
Cons
brassy tones in low registers
The Prelude by Conn-Selmer TB711 Series Student Trombone for Students and Beginners is a standard Bb, tenor trombone. They built with the student and beginner in mind. The Prelude is a well-constructed, basic instrument. It has a balanced design that makes learning the instrument more comfortable.

Conn-Selmer designed the .509-inch medium bore for easy-play while compensating for embouchure development. The Prelude has student-friendly features for beginners to help them learn the instrument and process. It comes with a Bach 12C small shank mouthpiece and a fixed, yellow brass leadpipe.
The Prelude has a solid 8-inch yellow brass bell that produces quality tone, resonance and projection. It has a lightweight brass outer slide and chrome plated nickel silver inside slide with sturdy bracing to withstand minor wear and tear, as well. The only con is that it doesn't include an F-attachment wrap or valve features. Here are the many pros of the Prelude TB711 Series Student Trombone.
Pros
Beginner's starter kit with instrument, mouthpiece, case
Affordable yet durable
Easy-to-play
Sturdy bracing
Quality sound
Lightweight handslide
Plastic soft side case
Full warranty and five year limited warranty and service
Cons
F-attachment wrap and valve features not included
The Getzen 1062FD Eterna Series Bass Trombone for intermediate or professionals produces an extremely wide range of sounds. It ranges from dark round sound to brassy, lively and bright tones. The Getzen 1062FD is a dual bore, .562 to .578-inch bass trombone with three interchangeable leadpipes. It responds well to genres including concert bands, symphony and jazz bands.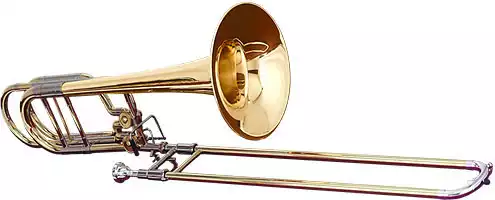 The dependent rotor system works for trombonists who desire a free-blowing valve section and quick-response. The clear-lacquered or silver plated, yellow brass Getzen instrument has a 91/2-inch, 23-gauge yellow brass bell with a soldered rim. It includes a 1-1/2G trombone mouthpiece and dependent, open wrap F- attachment with two rotary valves.
This trombone plays freely through the open wrap valve section, with little difference in resistance from the open horn. This horn has hand-straightened nickel silver inside tubes. Getzen chrome plated the tubes with barrel-shaped stockings, too.
The outside tubes consist of lightweight yellow brass with a nickel silver end crook and oversleeves. And the outer slide is a brass drawn one-piece slide. The Getzen 1062FD is affordable and has a smooth air flow.
This horn is best for concert, dance band, and church orchestras. Getzen recommends the Eterna Trombone for professional use instead of for middle or high school students.
Pros
Fun and easy to play
Consistent
Quick tone production
Superior slide action
Responsive
Vibrant sound
Getzen Gold warranty
Con
References
8 notes.com (2003-2004). Retrieved from: https://www.8notes.com/f/30_12948.asp?spage=1
The Hub (2016). Trombone Buying Guide. Retrieved from: http://thehub.musiciansfriend.com/band-orchestra-buying-guides/trombone-buying-guide#types.
Wikipedia (2016). Trombone. Retrieved from: https://en.wikipedia.org/wiki/Trombone.
Yeo, Douglas (2013). 5. How do you go about choosing a trombone? Retrieved from: http://www.yeodoug.com/resources/faq/faq_text/choosing.html