Some harmonicas stand up to abuse better than others and some are perfect the minute you take them out of the box. The harmonica or harp can be a disposable medium due to its inexpensiveness. However, having a quality instrument that will last a long time is invaluable to any musician.
The Seydel Blues Nobel 1847, however, is like moving from a Fender Squire to a Fender Strat. For reasons you can read more on below, this is the top pick harmonica. You can feel the quality as soon as you put it in your hands. And, it will continue to blow you away months and even years down the road.
Selecting Your Harp
Choosing a harmonica is often a subjective decision. While there are poorly made harps out there, quality crafted instruments will vary in the sound they produce. They also differ in tuning, ease of use, and the style or genre they play. Harmonicas are available in many different musical keys.
What key harmonica should a beginner buy?
Your harp will have markings, usually with the first position or blow note. If you are just beginning, start with a C harp and move on from there. What you choose depends on what keys fit the style of music you play or the songs you want to learn. The most commonly used harmonica key is C because it's also the most common key in music. C and G are also generally accepted to be easy to play on guitar and piano.
Traditionally, German-made harmonicas are superior to those made elsewhere. However, there are plenty of well-made harmonicas from China and Japan. In fact, Suzuki makes their harmonicas in Japan. Also, Hohner, a German company, has begun to make some of its harps in China.
What Makes a Great Beginner Harmonica?
If you are unfamiliar with harmonica construction, here's what you need to know:
Cover Plates: These are the metal "casings" that house the components of the harmonica. The shape and construction will determine the durability and sound.
Comb: Usually consisting of wood or plastic, the comb seats the reedplates and air passages.
Reedplates: Musicians usually use the reedplates interchangeably with reeds. They vibrate as you pass air through the comb, creating the different pitches of the instrument.
Every part of the harmonica is functional and determines the sound and quality of the instrument. The coverplate and its relation to the comb will affect how airtight the instrument is. The construction of the reeds, along with how you play, will have the most bearing on how long your harmonica continues to operate.
There is much debate over what effect the comb material will have on the sound of the harmonica. The traditional stance has been that wood combs produce a warm, classic tone, while plastic and metal will produce something brighter. Many harpists agree the comb material itself has little effect on tone. It's the shape of the air passages, coverplates, and differences in reeds that define the overall sound.
So, choose your comb construction based on the durability and whether it affects your lips. For example, if you have a mustache, some harps can pull a few hairs out. Wood combs are inexpensive and tend to swell and shrink with moisture. Plastic or ABS resin combs are more durable and easier on the lips. Metal combs have these qualities but will cost more and add a little extra weight to your harp.
The materials in the reeds are either phosphor bronze, brass, or stainless steel. Each type will affect how your harp sounds and how long it will last. Many companies use stainless steel reeds in their harps and raise the price accordingly. But steel doesn't seem to last any longer than bronze or brass. So, it usually comes down to how hard you play and how often, rather than the materials.
Most harmonicas come with cases. They are plastic clam-shell or hard zippered types. Other cases are available for purchase, too. So, if you feel a case is necessary, make sure the harmonica comes with one before your purchase it.
How Does it Feel?
The most important factor in choosing a harmonica is how it feels to you. This can be a frustrating task as it may take a couple of purchases before you find one that's just right. On the bright side, there is a large selection of quality harmonicas between the $20 and $40 range that are indicative of higher-end models of the same brand.
For example, if you buy a Marine Band Deluxe and you like how it feels and plays, the Marine Band Crossover may be something to look at in the higher end of price and construction.
A Note on Where You Purchase Your Harmonica
The internet can be a great resource for someone looking to buy a harmonica. However, since you put your mouth on it, this type of instrument is not easy to return. This means it may be more advantageous to buy one from a brick and mortar store. Most music stores have a small machine that passes air back and forth through the harp. This way you can be sure there are no dead holes or leaks.
The downside to this is that your selection may be limited. While many stores will order items that they don't keep in stock, you run the risk of upsetting the store clerk if you decline the purchase of a specialty item. However, if you decide to proceed, read on to learn about some harmonicas that will help keep you from buyer's remorse.
My Top Pick: Seydel Blues Nobel 1847
Most harmonica players will tell you to always buy the German-made ones. While this may be less true now than 30 or 40 years ago, the Seydel company makes some of the best harmonicas on the market. Founded over 160 years ago, a brush with insolvency in 2004 almost put the company out of business. However, they found an investor and the company continues to thrive today.
The 1847 line of harmonicas is renowned for their incredible craftsmanship and attention to detail. And the Nobel is the best of these products. Seydel took their Silver 1847 and improved upon nearly everything to create one of the best experiences you will have with a harmonica.
The coverplates are matted stainless steel with side vents optimizing the projection of sound and airflow. The draw notes are usually tricky, especially on holes 1 and 2 which tend to get used the most, but Seydel has you covered. They have minimized the reed rattling one might find in other harps, which is great for those who blow hard.
The comb consists of aluminum, so it will stand the test of time and use. They made the reedplates from German silver fixed with stainless steel screws. The close tolerances between the slot and reeds provide extreme responsiveness and control. To top it off, this harp is 100-percent waterproof.
Harmonica reeds blow out with constant use, but not all harmonica companies offer replacement reeds for their harps. Seydel does offer replacement reeds, but it will be a long time before you need to buy one. Their harmonicas are durable and long-lasting.
Most people view harmonicas as toys or niche instruments, but this harmonica would change anyone's mind. The tone is vibrant, warm, and full and puts just about every other harmonica to shame. This is an instrument in the sense that a saxophone or a piano is an instrument.
For those who have been playing for a while and haven't tried Seydel, try this harp out. And if you are just beginning, you won't have to buy another harp until you need another key.
Runner Up: Lee Oskar Major Diatonic
If you want an inexpensive harmonica, get a Lee Oskar. Oskar is a household name among harmonica players. And his line of harps was born out of his experience performing both on the road and in the studio. The Oskar Major Diatonic feels a little bigger in your hands than most other harmonicas. The holes are nice and wide for a full, bright tone and the bends are relatively easy.
This harmonica sounds great amplified. This harp is airtight, and the sound projection is phenomenal. The Oskar comes with a black clamshell plastic case clearly marked with the key. The best part of the Lee Oskar is that it is customizable. Oskar offers a toolkit they designed specifically for harmonicas.
Other Harmonicas to Consider
Hohner Special 20
Without a doubt, the special 20 is one of the most balanced harmonicas on the market. The construction is solid and allows for easy bends, even if you are beginning to learn the technique. A classic for many years, the special 20 is great for just about any style of music.
A full, bright sound and sturdy, this harp is the preferred harp for many harmonica players. And while many people stand by the Special 20, there are two different models available. Each comes with considerable differences in overall quality.
When purchasing, try and make sure you are getting the "classic" model (560-BX-C) and not the "progressive" model, which many consider inferior. Here is an extremely useful video to help you hear and understand the difference.
Suzuki Manji
They named the Manji after the Suzuki company founder and it is a mainstay for many harmonica players. The comb is resin and they laser-tuned the phosphor bronze reeds. Suzuki sculpted the cover plates for optimal sound projection and quality.
Reedplate replacements are available to extend the life of the instrument. The Manji is also available in various keys, specifically C and D, which opens up greater possibilities for lead players.
Bluesband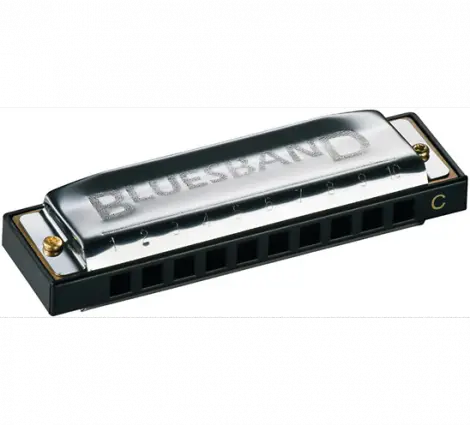 The Bluesband harp is the ultimate low-budget beginners harp. You can often find these with a song book a cardboard case as a deal in music stores. This harmonica is perfect for beginners looking to spend as little as possible.
However, you won't get the full sound out of this harp as you would from one costing a little more. But this is a great buy if you want to try the instrument without spending a lot. But if you've been playing for a while, skip this one for a higher-quality model.
Suzuki Harpmaster
This modestly priced harp is a great middle-of-the-road instrument. Easy to pick up for beginners, the price means it's great for musicians on a budget, as well.
The Harpmaster is responsive, and the laser tuned brass reeds provide a mellow tone that can stand up to many higher-priced models. This harp comes with a hard shell case, too.
Suzuki Promaster Valved
This valved harmonica allows bending on blow notes, which provides more possibilities while playing. The plastic comb, brass reeds and airtight construction provide a rich sound with warm tones, too.
This harp can take a little extra breaking in to be able to get all the bending capabilities. But the wider range of notes available is well worth the effort.
Marine Band
The Marine Band harmonica is the original blues harmonica. Musicians like Little Walter, Bob Dylan and John Lennon have played it, among many others. It has a wooden comb, which may swell or shrink. Also, the curve on the cover plate and slightly smaller size might make it feel strange to some players.
All of this is made up for by the sound that comes out of this harp. Warm and rich, full and responsive, it is hard to beat the Marine Band when you want that authentic blues sound. The biggest drawback to this harp is that it is a little overpriced for the materials they use. However, name recognition is a factor in selling this harp.
Fender Blues Deluxe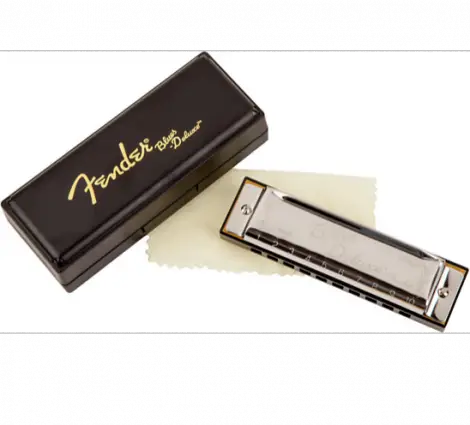 While Fender is famous for it is electric guitars, they offer many other musical instruments with varying degrees of success. As far as this harmonica goes, the price is right. In fact, you will be hard-pressed to find a more economical choice that sounds good and is easy to play.
Bending notes is a bit harder than with a Special 20. The comb is molded PVC plastic and the reeds are brass, giving it a classic warm tone. The cover plate design may create a little too much airflow for established players. However, this harp is great for beginners on a budget. It can also be a backup harmonica for experienced players.
Melody Maker
Lee Oskar's Melody Maker is a wonderful instrument for playing single note melodies. This is due to the tuning that creates a complete two-octave scale. More traditional tuning doesn't allow for a complete lower octave. Having two full octaves available means you can play songs that would be impossible on other harmonicas. This harp has a plastic comb making it easier on your lips.
Also, it has a recessed bed to secure the reedplate and prevent air leakage. Replacement parts are also available, so you will not have to buy a new one for a long time. Due to the tweaks to this harp to play single note melodies, it may take time to get used to playing it. Be warned when purchasing this product. The stated key is the harmonica's cross harp second position, not the first position.
Hohner 542 Golden Melody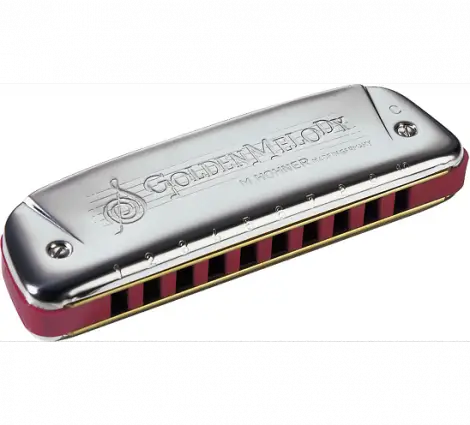 This is a favorite harp for many due to its retro design. The rounded edges and extended length make it super comfortable to hold and play. It is Richter tuned, which is standard for diatonics and slightly different than the Lee Oskar Melody Maker. Most musicians use this harmonica for Gospel music, but you can also play blues or rock with it.
The Golden Melody is also one of the loudest harps on the market. So, it can stand against the church choir or your band buddies who won't turn down the volume. The red comb is plastic, so it is durable. They placed the reeds close to the mouthpiece, making this an incredibly responsive harp, even at low volumes.
So now you know how to find a harmonica that will last long and sound great. Have you chosen your favorite? Be sure to go to the store to check it out before shelling out your hard-earned cash.
Here's a recap of the competition: