If you have ever heard Johnny Cash's 1969 recording of Southwind, you may have wondered what he used to create that unique sound. That twangy, metallic, bluesy wail comes from a resonator guitar. So, if you want to explore a whole new sound territory, the resonator may be your road map. There are many great resonator guitars out there, which can be confusing.
This shiny, gleaming instrument has an unmistakable sound, a charming history, and versatility to spare. Dire Straits even featured a photograph of Mark Knopfler's 1937 National Style 0 Resonator Brothers in Arms on their classic rock album cover. If you are looking for a resonator guitar, read on to learn about the best ones available today.
#1 Budget Pick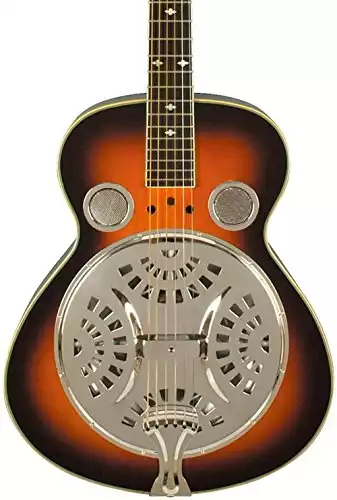 #1 Mid-Price Pick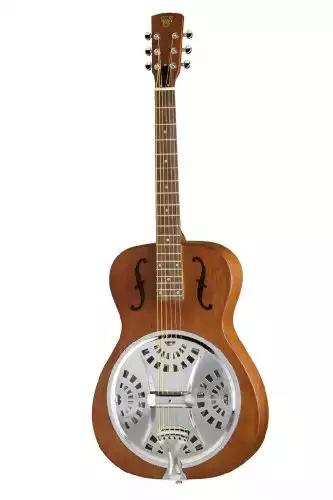 Before the Electric Guitar, There Was the Resonator
Resonator guitars have been around since 1928. Their development, much like the electric guitar, came about due to demands from players. Over time, this unique, beautiful instrument proved to be more versatile than its intended purpose, which was to make the acoustic guitar louder. Its haunting, distinctive sound often in blues and bluegrass music, is a defining element of those styles like the electric guitar is to rock and pop music.
George Beauchamp was a guitar player in a dance band during the 1920's. Like many dancehall and orchestra players, he struggled to help the audience hear his guitar over the brass section. But unlike other players, Beauchamp decided to do something about it. So, he came up with the idea of employing a gramophone-like amplifier directly onto his guitar. Then Beauchamp took his idea to violin maker John Dopyera, but the prototype did not meet his demands.
Beauchamp persevered and finally hit the jackpot using three cone-shaped aluminum resonators he mounted under the bridge of the guitar. This enabled an even distribution of vibrations among the three cones before projecting from the body. Simple chemistry explains the louder projection. Metal resonates hotter than a wooden guitar top. And the resonators and bridges translate the energy from strumming or picking into resonating frequencies.
He was so pleased with the results, Beauchamp went into business with Dopyera, forming the National String Instrument Corporation. The first tri-cone guitars, with a Rickenbacker metal body, became available in 1927. It is this guitar design Son House plays in his 1965 performance of Death Letter Blues. It is one of the masterpieces of the Delta Blues genre.
Clearing the Dobro Confusion
You may hear the term, "Dobro," to describe a wood-bodied, single cone resonator guitar. However, a Dobro is a brand of resonator the Gibson Guitar Corporation currently owns. But, the Dopyera brothers formed the Dobro Manufacturing Company and originally made the resonator. The first resonators came with square-neck lap steels to feed the Hawaiian music craze of the mid-1920's.
Once the country and bluegrass musicians discovered them, round-necked guitars became even more common. They were either wood bodied and necked for warmer tones, with more mid and bottom tones for bluegrass. Or, they could be all steel with a wood neck, providing a brittle, clangy, bluesy sound. The round-necked version also made them easy to play for those who learned on conventional acoustic guitars.
The Many Types of Resonators
According to Wikipedia, "A resonator guitar or resophonic guitar is an acoustic guitar that produces sound by carrying string vibration through the bridge to one or more spun metal cones, or resonators, instead of to the soundboard, or guitar top." That tidy definition doesn't say how many types of resonator guitars are out there. Just like their acoustic brothers, every variation in instrument design yields a different tone. So here's what you need to know about the types of resonators musicians use today.
Great Resonator Guitars: Square Neck Vs. Round Neck
Resonator guitars are classified first by their neck type: square-necked or round-necked. These differences are significant because you play them in different ways. For example, you play a square-neck like a lap steel. They have an extension nut that raises the strings, so you use a special slide, a Stevens Steel.
Also, the thick, squared-off neck lends stability and support while you play. This is the type you'll often hear in bluegrass music. However, you play a round-neck resonator like a regular guitar. This is the one you want if a bottle-neck slide is your thing. It is also the more versatile because you can purchase a nut converter to raise the strings, allowing you to play it as a lap slide.
These are the three primary resonator designs depending on the number of cones and the design of the bridge:
Original tri-cone
Single-cone spider-bridge
Single-cone biscuit-bridge
Biscuit-Bridge Single-Cone Design
The simplest resonator design is the biscuit-bridge single-cone, which looks like an inverted speaker cone. Also, the "biscuit" in biscuit bridge refers to the hardwood disc that sits in the center of the cone. And the saddle usually consists of maple wood that sits in a slot in the center of the biscuit. This design project a stronger central tone with less complexity or overtones.
You will find this cone design in both metal body and wood body models. Delta blues players strongly preferred single-cone resonators because of their loud, clangy tones. When this design is in a wood body, the tone is less brittle and crisp, but still strong.
The Tri-Cone Design
The tri-cone has three cones and a T-shaped bridge. These instruments are more labor intensive to build. So they are generally more expensive than a single-cone model. The vibrations from the plucked strings go to the three cones. Also, the interplay within the body of the resonator creates a more distributed complex sound.
There is a less immediate attack when you pluck the strings or apply the slide. Slide players prefer this design because of the complex tones and overtones. A wood or metal body in the tri-cone family will change the tone by removing that brittle, metallic sound. Many blues players strive for that metallic quality, so it depends on your preferences.
The Spider-Bridge Single-Cone Design
Favored among bluegrass players, the bridge has an eight-pronged, spider-like shape. The bridge contacts the cone in the center and the edges. With this design, the string vibration is distributed to numerous points around the cone. The spider cone has a reversed concavity, so more of the sound goes out rather than into the body. In this way, it projects sound more like a typical speaker.
This unique feature makes a dramatic difference in the resulting tones. These cones often sit in special sound wells that modify the tonal character even further. The resulting tone is nasal in quality. The spider-bridge design is most often seen in square-neck models. In fact, it is what renders that unmistakable bluegrass tone like that from Jerry Douglas and Johnny Bellar.
Also, this type often comes with a wood body rather than metal. But, you can find it in round-neck models, as well. Here is a list of resonator configurations and their associated genres:
Square Neck Spider Cone: Country and bluegrass
Square Neck Tri-Cone: Hawaiian music and blues
Round Neck Tri-Cone Guitars: Jazz and blues, especially for the bottleneck slide
Round Beck Biscuit Resonators: Blues, slide or conventional playing
Here's the full competition, broken down by price range:
Budget-Priced Resonator Guitars
Great resonator guitars are available on a budget. They also make great first instruments. Here are the top three:
The Rogue Classic Spider Resonator Roundneck is an affordable introduction to the resonator, producing a distinctively loud, cutting tone. The Spider is beautiful with a spruce top, mahogany body and rosewood fretboard. A squareneck version is also available.
#1 Budget Pick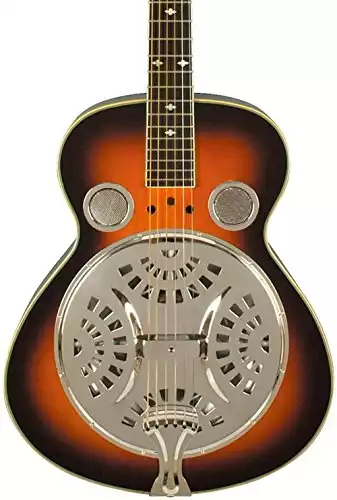 The aluminum cone and the die-cast spider bridge produce excellent tones with loads of projection. The chrome plating on the cone and fully bound body make it an attractive instrument. The rogue comes in both sunburst and black finishes. It reproduces that classic, booming National sound blues and slide players want.
The Fender FR-50 offers much for the money. The Fender has a maple top and mahogany body. It also has a pair of dual Fender "F" soundholes that maximize the output of the Eastern European hand-spun aluminum cone.
#2 Budget Pick

Fender fitted it with a C-profile neck and a Telecaster-style headstock, so the Brown Derby will feel familiar to Fender electric guitar players. For the price, this is one of the most affordable great resonator guitars today.
Try your hand at blues, slide, hawaiian, or similar genres with the Recording King's Dirty 30s Resonator. It delivers tons of bluesy, classic style and a vintage resonator tone.
#3 Budget Pick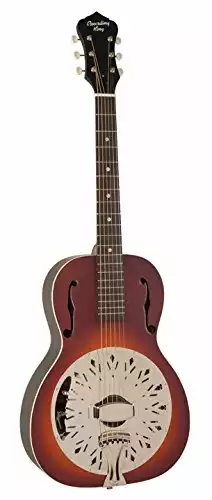 Sound is delivered from a hand-spun 9.5″ cone, with the f-holes are placed to optimize bass and treble frequencies. Whether you're a beginner or a a songwriter looking for vintage blues or slide sound, this model will give players authentic sound with the reliability of a modern design.
Mid-Priced Resonators
These resonator guitars use higher quality woods and metals. They also come with higher-grade tuners and other features. Here are the top two mid-priced great resonator guitars:
The Dobro Hound Dog Acoustic Deluxe Round Neck resonator guitar has been an American classic since its arrival in the 1920's. Dobro pioneer, Bashful Brother Oswald, became the instrument's virtual ambassador. He performed with it weekly on the Grand Ole Opry for over 60 years.
#1 Mid-Price Pick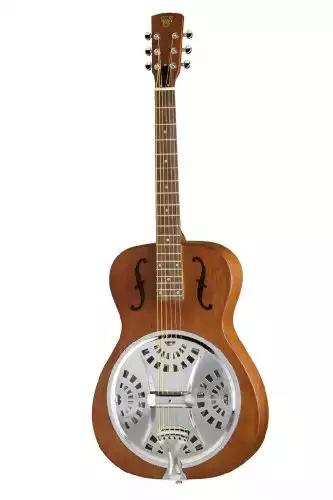 The body is a laminate Dobra made from thin veneers of maple. It houses a modern version of the original Dopyera inverted cone resonator and spider bridge. The Fishman resonator pickup makes it easy to amplify, too – and reasonably priced.
Another one of the great resonator guitars is the Gretsch G9220 Bobtail Acoustic/Electric Resonator. It has a round neck perfect for blues-based music. And there is also a square neck version for bluegrass. The G9220 features a mahogany body with traditional-style F holes. The heart of this rich sounding guitar is the Gretsch Ampli-Sonic resonator cone.
#2 Mid-Price Pick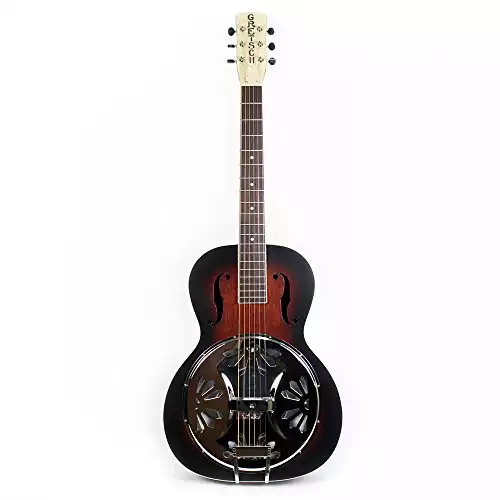 Gretsch hand-spins them in Eastern Europe from nearly 99 percent pure aluminum. This helps it provide fantastic volume and projection. They also designed the onboard Fishman Nashville ceramic pickup for spider-style bridges.
High-End Picks
The following high-end instruments have more precise construction. They also have higher-grade materials and components. Here are three of today's high-end great resonator guitars:
Regal built the RC-4 Metal Body Duolian Resonator entirely of brass, adding high-grade nickel plating. This means the Regal RC-4's craftsmanship is second to none. The modern-tapered mahogany neck features a rosewood fingerboard and solid peghead with pearloid overlay.
The Duolian-style body with a 14th-fret neck/body joint makes for easy playability. Also, the sealed 15:1 tuners hold your pitch through the longest sets. The Regal is a great high-end option.
The Gold Tone Beard Signature Series Deluxe Resonator has a fully bound mahogany body and ebony fretboard. This is also one of the great resonator guitars that feel vintage.
#2 High-End Pick

It also features an American-made cone and spider bridge, producing a powerful yet sweet tone. The bound, solid mahogany stunner comes in a sunburst finish and is bluegrass ready.
An all-steel body with a 99 percent pure aluminum Ampli-Sonic "Spider" cone diaphragm puts the G9201 on this list of great resonator guitars. It provides a distinctively sweet yet cutting tonal signature that not many guitars come close to.
#3 High-End Pick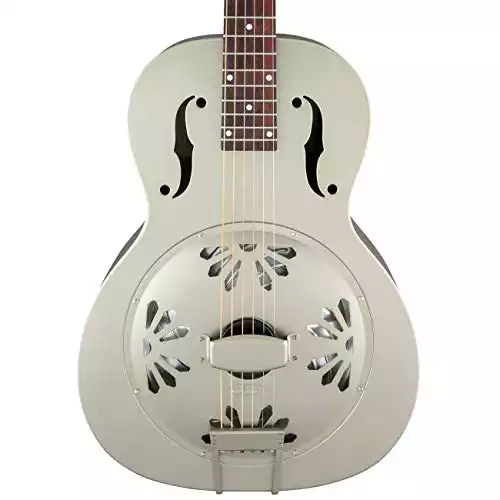 This list of great resonator guitars has models for any musician, no matter the budget. Hopefully, you found the one for you on this list. They all provide a distinct sound that your audience won't forget.
Sources
Kucharski, P. (2004, September. Resonators explained. Retrieved January 18, 2017 from acousticfingerstyle.com
Resonator guitar. (2017, January 16). In Wikipedia, The Free Encyclopedia. Retrieved 08:47, January 20, 2017, from https://en.wikipedia.org