Picking out a piano for your child can be a nerve-racking endeavor because it represents a major investment. The instrument itself has changed over the centuries: from acoustic upright pianos to baby grands to modern digital pianos, each has its own benefits and drawbacks.
When picking out the best piano for your child, you'll need to determine how much space you have, how much you're willing to pay, and whether the instrument will travel. Traveling performers with pianos need smaller and lighter instruments. Also, consider the rate of depreciation: many quality acoustic musical instruments last for decades when properly maintained. If in the future you decide you don't want a piano, it's possible to sell it for nearly the same value.
Why You Should Trust Us
To bring you our pick for best piano, I have reviewed and studied information on over 10 models across several brands and in several categories. I also have a large amount of musical experience across many instruments.
For example, I played the trumpet, trombone, and keyboard throughout middle and high school in both marching band and symphonic band. I learned how to compose music for different instruments as well as musical theory. When not in band practice, I played guitar at home and still do to this day. Knowledge of how one stringed instrument plays often carries over into another instrument.
In my childhood, I played piano briefly for youth church on a Yamaha baby grand. It was an older model that the church replaced after the pinblock became too loose. In short, I have experience with musical instruments and have done a wealth of research with different pianos.
What Type of Piano Should I Buy?
Three main designs for pianos exist: grand pianos, upright pianos, and digital keyboards.
A grand piano has its strings and keys laid out horizontally. When the player presses a key, the hammer strikes the string from below and gravity brings it back to resting position. This makes repeated notes easier to play. Grand pianos often have their tops open for easy tuning and to deflect the sound to the audience when playing.
Grand pianos take up a lot of floor space; even for the smallest grand piano you need at least a 5′ x 6′ area, including space for the bench. Grand pianos have a sleek, distinct look that can have a psychological effect on the player and the audience, and their size allows a sound that carries far.
Upright pianos are smaller than grand pianos and the layout is slightly different. The soundboard and strings align vertically. This saves on space, but it allows less control for the player because keys have to return all the way to resting position before a repeated note can sound. However, they are more vulnerable to temperature fluctuations.
Digital keyboards differ significantly from standard pianos. Rather than striking a string, the key triggers a digital sample of the note being played. Many digital keyboards provide the option to simulate different instruments. Players can also plug headphones into an audio jack and practice without disturbing the neighbors. But digital sound cannot match an actual instrument in terms of authentic sound quality.
New or Used?
Buying a new piano can cost over $3,500, but you have a guarantee of its quality. Buying new, aside from defective workmanship, you know that the strings, keys, cabinetry, and action are in good working order. It will need tuning a couple of weeks after you get it home.
When buying a new piano, have a registered technician come and check it out before finalizing the purchase; prepare to set an appointment about three weeks in advance. Factor in moving costs, which can range from $100 to $500 depending on the size.
Used pianos, on the other hand, can run a lot cheaper. As with new pianos, strongly consider setting an appointment with a registered technician to check it out. Bear in mind that with used pianos you get what you pay for. The inner workings can be broken or the piano might need re-tuning badly. If the piano requires extensive repairs, it could very well reach or exceed the cost of buying a new model.
Not All Pianos Are Created Equal
No two pianos, unless they are factory-made versions of the same model, have the same voice. Even wear and tear can alter a piano's voice; the felt can wear away from the hammers, brightening the sound. The hammers can also drift out of alignment and not strike the strings properly.
The voice of a piano is the sound it makes from the string vibrations resonating off the soundboard. It can be a deep, rich tone or a thin, bright sound, or somewhere in between. Play the same passage on different instruments to get a feel for the piano's voice and see whether it works for the type of music you or your child plays.
The Competition
Here's the competition.
Search on eBay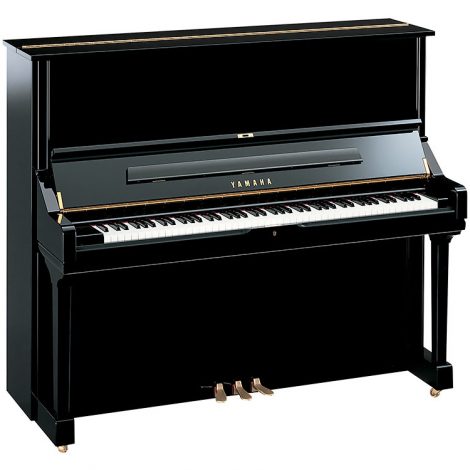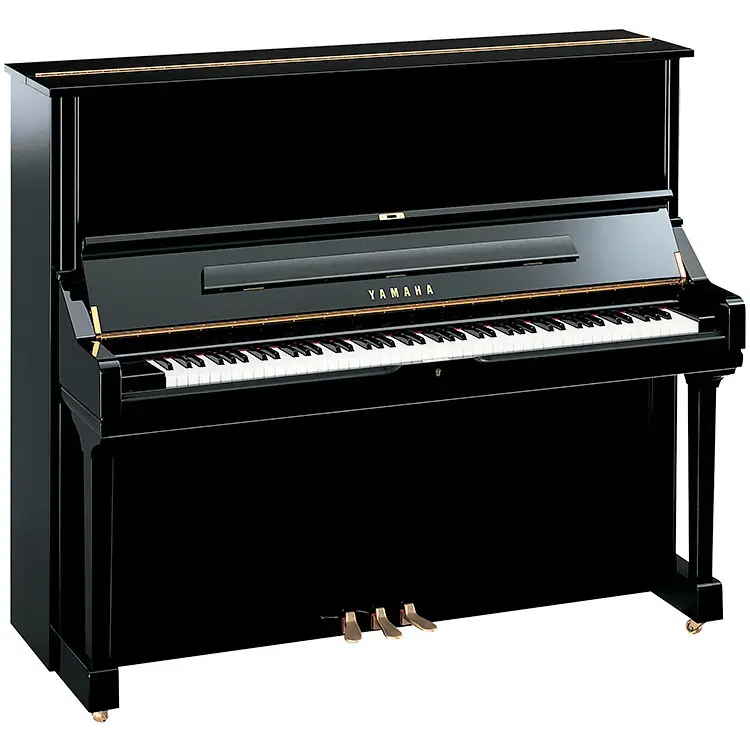 Based on our research and my personal experience, the tried and true Yamaha U3 piano is a great choice for many styles of piano playing. It has a solid middle-of-the-road performance. The Yamaha U3 upright piano is 52″ tall, providing ample room for a soundboard and bass strings that provide mellow tones rivaling a baby grand piano.
The Yamaha U3 has longer keys, allowing for more control over the sound and more response from the keys. Younger children often have not developed the finger strength and control to deal with less responsive key action. The piano has the full range of 88 keys and a 60″ width, allowing plenty of space for sheet music.
The Yamaha U3 comes in a variety of wood finishes including ebony, American walnut and mahogany. This works well because a piano isn't just a musical instrument, it's a part of your home decor and it needs to match. The multiple options can work with a dark or bright room.
Material-wise, Yamaha U3 pianos consist of spruce and hard maple for the wood components. Spruce is a light wood, but strong and perfect for the keys and soundboard. Hard maple, meanwhile, is the primary material for the pin block. Maple is resistant to fluctuations in humidity that lead to the tuning pins loosening, and it is a sturdy material.
Yamaha uses aluminum for the action rails rather than wood, maintaining the same touch control throughout different climates. The Yamaha U3 receives seasoning for the United States climate, which changes between extremely humid and extremely dry depending on geography and time of year.
The main drawback of the Yamaha U3 is that, depending on where you are, the sound might be too loud for convenient, normal practice. This might limit practice to only set hours of the day to avoid disturbing neighbors or other members of your household.
Although the Yamaha U3 costs more than some of the other pianos listed here, it has the most versatile range of voices and tones. It also offers the best control. This is why the U3 is our top pick for best piano all-around. It's a solid choice that can last for generations.
View on Amazon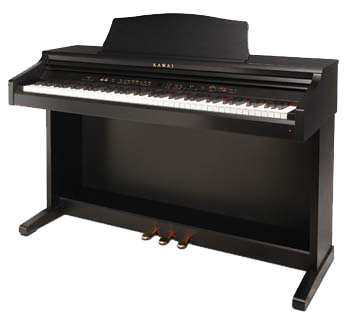 If you're not interested in the Yamaha U3, you can go the digital route with the Kawai CE220. It comes close – for a digital piano – to mimicking the feel and sound of an analog instrument. Not only does it boast a full-size keyboard, the keys are also weighted.
The lower register is heavier and the upper register is lighter, like how an acoustic piano feels. Also, the keys are made of wood for extra authentic texturing and grip.
On the digital side of things, the Kawai CE220 boasts two headphone jacks, which makes it perfect for quiet duet practice. A "4 Hands Mode" keyboard function achieves much the same effect by allowing the keyboard to split in two identical 44-note keyboards for same-register duet practicing. Meanwhile, the 192-note polyphony provides ample support for multiple melodies. Built-in drum samples and instrument sounds add to the versatility of the Kawai CE220.
The digital features of the Kawai CE220, though, can have a learning curve and some of the buttons look to be placed awkwardly. If you can get around these issues, the Kawai CE220 makes for a cheaper alternative to the Yamaha U3.
Other Products to Consider:
View on Amazon
If space is at a premium in your house, you can consider the Yamaha P71 digital piano. It has a full-size keyboard and a sustain pedal to make notes ring for longer. The weighted keys do an excellent job at simulating the feel of an acoustic upright or grand piano by using the Yamaha Graded Hammer Standard.
With 10 different voices, the P71 gives players the sound of several other pianos. An X-brace stand comes with it. Personally, we prefer a parallel brace even though an X-brace can be folded; it's not as comfortable for players with longer legs or for a fidgeting child. The sounds for the piano are crisp, but could stand to be better-quality at higher registers. They almost make it sound too bright.
View on Amazon
This is a good digital keyboard for just testing the waters and having fun playing the instrument. It isn't a full-sized keyboard; it only has 61 keys instead of 88. It makes up for it with a repertoire of 100 synthesized instruments, 8 drum preset patterns, and 10 demo songs.
The Flexzion isn't as well-known as some of the pianos listed, but it can generally be found for a low price and help your child get a feel for making music before transitioning to a full piano. The downside is that the keys aren't weighted. I remember the first time I switched from a non-weighted keyboard to a weighted piano and could barely make any sound because I was used to using less force on the keys. For a quick starter instrument, this keyboard isn't a bad choice.
Steinway Model 1098 Upright
Search on eBay
Among piano scholars and players, you can't go wrong with a Steinway if you want a deep, rich tone quality. The Steinway 1098 is made of birch and maple, giving the piano's frame and soundboard stability and strength for better tuning. It has a 46.5″ height, which is shorter than the Yamaha U3 but compensated with a soundboard of varying thickness that better reflects the sound from the middle keys.
The soundboard, made of Sitka spruce, has greater stability than other woods. A hard rock maple pinblock provides excellent holding capability for the tuning pegs, because of the six-layer construction. While Steinway models, especially the 1098, cost more than other brands, you are guaranteed high quality with a Steinway model; the business has been operating for over 150 years.
Search on eBay
The Yamaha P22 often sees use in school music rooms or studios because it is built of rugged materials that can stand up to occasional bumps and knocks. The P22 is about 48″ tall, light enough to be moved frequently and easily, and fits on caster rollers that won't damage a floor. The piano's footprint is only 10 square feet, which is great for small or cramped spaces.
Baldwin M1 Baby Grand
Search on eBay
Although it's not a universal truth that grands or baby grands are superior to uprights, there's no denying the richness of tone that comes from a quality baby grand piano like the Baldwin M1. At only 62″, it is one of the smallest baby grands you're likely to find. Its consistent tone comes from the solid molded maple used in its rim and the spruce soundboard.
You can get more tone control with the Baldwin by using the three pedals: soft, sostenuto, and sustain. The sostenuto pedal allows the player to keep specific notes from fading, a feature rarely seen on upright pianos. The Baldwin M1 also has a pneumatic closing lid so if the rod somehow slips the lid doesn't come crashing down and damaging the wood or smashing someone's fingers.
References
Types and Sizes of Pianos (2011) Retrieved from http://www.bluebookofpianos.com/grandpianos.htm
Thile, S. Thile, digital versus acoustic pianos. Retrieved from http://campus.murraystate.edu/staff/scott.thile/digital_vs_real.html
Voicing. (1993). Retrieved from http://www.ptg.org/Scripts/4Disapi.dll/4DCGI/cms/review.html?Action=CMS_Document&DocID=64&MenuKey=Menu7
Watkins, M. (2009, August 13). Kawai CE220 review – is the CE220 a good choice? Retrieved from http://www.pianoreport.com/kawai-ce220-digital-piano-review/