If you're ready to get serious about your drumming, you need a good pad. The Vic Firth Heavy Hitter is the all-around pad that will teach you how to control your sticks without breaking your bank.
If you're ready, strap in for an in-depth look on practice pads. I'll show you how to analyze and rate them, so you can come to your own decision on why my favorite is, in fact, the best. We'll also discuss some alternatives, especially when it comes to satisfying specialty drumming.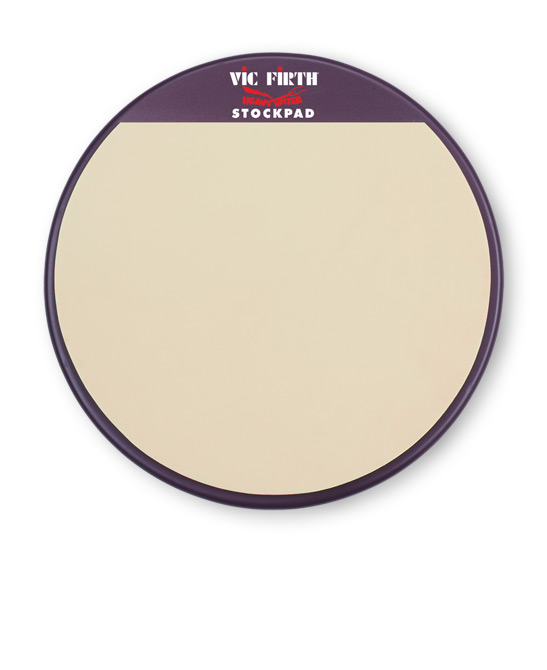 Top Pick: Vic Firth Heavy Hitter
Buy from Amazon
You won't find better responsiveness, and this is a pad that can take abuse like no other. Very simple design, this pad works for a wide range of styles, and virtually any drummer can master the full scope of their technique with this tool.
Before we dive into the good and bad of practice pads, I'm going to take a moment to talk about myself. I think it's only fair you understand why my opinion is worth listening to in the first place, so here it goes.
I've worked as a classically trained percussionist for over 20 years. I've recorded with a number of bands, ranging from jazz to rock, and I paid my dues doing the marching scene in college.
Despite my varied experience, when I review products, I start from the beginning. For practice pads, I put my sticks to the surface of more than two dozen different pads and rated them personally. I then rounded my opinions by discussing them with peers and professionals.
Finally I looked through review sections to see how they fared with the average user. Putting it all together, I made this list for you, so you could skip all of the legwork and get straight to a reliable practice pad.
Qualities of a Good Pad
When it comes to comparing practice pad, there are distinct qualities that matter most to anyone who spends long hours at practice. In order of importance, they are responsiveness, longevity, size, sound and utility.
If you've read any of my other reviews, you might be shocked to see sound ranked so low, but there is a reason for that, and we'll get to it in a moment. Let's talk about exactly what we want from each of these factors.
Responsiveness
Practice pads exist for one, singular purpose, and that purpose is to train technique. For that reason, you want a pad that responds as authentically to your strokes as possible.
A dead pad won't let you properly practice controlling the bounce and vibration of your sticks will teach bad habits faster than you can imagine.
Conversely, if you practice on a surface that springs much more forcefully than the drums you actually play, you'll train your muscles improperly. For that reason, different pads will be best for different kinds of drummers.
Still, there are universal qualities, and if you have to err on one side or the other, too springy is better than not springy enough.
Longevity
I'm going to paraphrase an old quote. If you must break your instrument to make music, then the instrument must be broken.
I've long subscribed to this philosophy, but that shouldn't prevent us from seeking equipment that can withstand the punishment we distribute. In general, practice pads take a pounding far worse than any drum.
Practice strokes are exaggerated and powerful, and they are relentless. In fact, if you get a pad without the intention of abusing it, then you don't actually need it.
For these reasons, the longevity of a pad is only slightly less important than its responsiveness. Sure, it needs to function well, but it also needs to last.
Size
Size is important, but there is not a "one fits all" solution for practice pads. Larger pads are excellent for giving you more room to practice, but some people need the portability of smaller pads.
In this review, I'll be recommending 12-inch pads as the optimal size, but it's only because you have to start somewhere. At 12 inches, pads are the size of many drums (snare drums are typically 14 inches), and they give you enough real estate to move the sticks around.
They're still plenty light in weight and can fit conveniently into most travel bags. That said, I still have an old six-inch pad from my youth, and it still travels with me on occasion.
You'll ultimately want to go with the size that suits you best, so take my preference of 12-inch pads with a grain of salt.
Sound
Alright, let's talk about sound. I am a slave to the philosophy that sound quality matters most in music. That philosophy really doesn't apply to practice pads.
It does not matter what timbre comes out of the pad. It only matters that you can hear how your technique affects that sound. Really, when I analyze the sound of a practice pad, I'm thinking about how loud it is.
One of the primary reasons we use pads over drums is because practicing our strokes with a full range of motion is very loud. There are many times when you need to practice but society will not tolerate the sheer volume of drum practice.
It's really why pads were invented, so when I talk about the sound on a pad being excellent, I'm referring to it being quiet. I might mention how a pad resonates or can respond to technique, but volume of sound is the primary issue.
You can get a solid idea of the variety of sounds that come out of pads from this video:
Utility
The last metric by which we'll be measuring pads today is utility. Sure, you can throw a pad on the floor and go to town, but that isn't good practice.
That's how you nervously go over a challenging section while you're waiting. Good practice mirrors performances, so you want a pad that can fit snuggly into drum stand (another reason why my general recommendation is for 12-inch pads).
In general, the utility of a pad refers to how easily and effectively you can treat it like an actual drum.
Types of Pads
For the most part, drum pads come in two types: rubber pads and headed pads. While the rubber type originally came without rims, they've come a long way over the years.
The primary difference between the two is that headed pads have tension lugs or screws that mirror those of an actual drum, and they use synthetic surfaces that are actually stretched over a surface.
Both types of pads are good for practice, but I usually favor the rubber types for a few reasons. First, the responsiveness is sharper, making for better practice.
Second, they last longer and don't require upkeep. Headed pads lose tension over time, and eventually tightening the "lugs" stops helping.
Finally, rubber pads, on average, are much quieter. They produce a muted sound that is just easier on the ears over the course of a long practice session. So, with that covered, let's talk about the best pads.
The Competition
After hours of testing and research, here's the final competition.
| | | |
| --- | --- | --- |
| | This is a pad that can take abuse like no other | $39.34 |
| | Has a realistic rim that enables you to practice rim shots and other techniques | |
| | Come in a few sizes, but they all have a responsiveness that is the closest I've found to a drum set snare | $35.29 |
We've set the stage, so we can now talk about how amazing the Vic Firth Heavy Hitter Stock Pad is. As you probably guessed, it is a rubber pad, and it has a 12-inch diameter.
There is actually an alternative model, the slim pad, but I prefer the stock. It is thicker than its companion model and it has a more muted sound. The Heavy Hitter scores top marks in all of the categories we discussed.
You won't find better responsiveness, and this is a pad that can take abuse like no other. While the price range is nicely affordable, you can still consider it an investment, because it won't wear after many long hours of practice.
The Heavy Hitter does suffer a little in the utility department. Its size enables it to fit in drum stands, but otherwise, it utilizes a fairly simple design that is short on bonus features.
Ultimately, that is part of the appeal, because there are no bells or whistles threatening to break or distracting from a pristine practice session. In all, this is a pad that works for a wide range of styles, and virtually any drummer can master the full scope of their technique with this tool.
Runner Up: Xymox Reserve
Xymox has a relatively new series called Reserve. There is a 12-inch and 14-inch model, and you can even fully customize pads. They are of a similar rubber type to the Heavy Hitter, and in terms of responsiveness and sound, the two pads are pretty much equals.
The Reserve far exceeds the Heavy Hitter in utility, mostly because it has a realistic rim that enables you to practice rim shots and other techniques. Really, you can't find a better pad, but it can't hold the top spots for two reasons.
First, these pads are expensive for what they do. For a professional, the cost is completely worth it, and this is the better choice of the two, but unless you're pursuing a career, the Reserve doesn't offer enough to justify the cost.
Practice on the Heavy Hitter is just as effective, so why shell out those extra dollars?
The second drawback to the Reserve is availability. Because Xymox specializes in custom practice tools, they're difficult to come by.
You can create an order on their website, but anyone who is uncomfortable purchasing a pad they've never touched, this is a major drawback. Still, if you're here to take my word for things, these pads are phenomenal, and you won't regret your purchase.
Evans makes the RealFeel pads, and this series was actually my first introduction to rubber pads.
When it comes to all-around drumming, the RealFeel series is slightly edged out by the previous two options, but for a niche, this is the best pad on the market: drum set snare.
Since many of you out there are aspiring set players, I felt it important to make this recommendation. The RealFeel pads come in a few sizes, but they all have a responsiveness that is the closest I've found to a drum set snare.
If trap set is your preference, this is the pad for you. It doesn't hurt that it's in a very friendly price range.
If drum set is your primary goal, but you still want to explore other avenues of percussion, this is still a great pad. It is plenty versatile, only being outdone by two models I've tried, so you can go this route with no remorse.
DIY: Make Your Own Pads
It turns out, you can make a fairly effective, quiet practice pad pretty easily. Do you remember mousepads? I might have just dated myself, but the rubber typically used in them is amazing, and they're surprisingly still easy to find, often for free or super cheap.
The setup is easy: put a mousepad on anything hard, and you have a responsive drumming surface. Of course, there are some things you need to know. First, the rubber pad doesn't completely protect the surface, so don't put it on a high-quality dinner table or anything of that ilk.
Dents and damage will happen to your surface. Second, you don't need it to be a mousepad, per say. You can find similarly responsive rubber in a lot of hardware stores. The mousepad is just an easy standard for comparison.
Third, this solution has a much shorter lifespan than industrial practice pads. You get what you pay for in this case, but there are a few unique advantages to the DIY approach.
The best thing is that you can fully customize your pad. If you really want to get creative, you can cut a block of wood (the harder the better) and glue your rubber surface to it.
The lazier among us could opt for staples instead of glue, and it comes with an interesting dynamic. The staples create dead spots in the pad. While this seems like an obvious problem, strategic dead spots can be excellent for training newer drummers to aim more consistently.
Ultimately, the sky is the limit with DIY solutions, and whether you invest in a top-notch pad or not, I highly recommend experimentation. It can help you better identify the qualities that are most important to you, and it can circle back as a future solution to training problems as you progress.