If you want to change your guitar, a new set of pickups can do the trick. Pickups tend to be one of the first things a guitarist upgrades. Since guitars are similar, a pickup can significantly change your output. But, how do you find the best pickups for bass guitars?
Before you start shopping, consider what sound you are shooting for first. Then you can start your research to see what set of pickups will deliver that sound. Bass pickups perform the same duties. However, their makeup and how they perform can have varying results on the tone you get from your bass guitar.
The right accessories are a vital part of your instrument and help you create new sounds and tones. So here are a few tips on what to look for in a set of pickups. Be sure to read to the end where there are a few reviews to help you start shopping.
Upgrade Your Bass Guitar by Changing the Pickups
If you are going to spend money on a new accessory, have a firm idea of what sound and tone you are aiming for to help you make an informed buying decision. So, go to the store and play a few of the best pickups for bass guitars to know what sound you get out of them. Hearing the differences will help you understand which pickups will deliver the sound you ultimately want.
TLDR: Upgrading your bass guitar pickups can greatly enhance sound quality, with options for both passive and active pickups from top brands like Aguilar, Nordstrand, and Bartolini.
How to Choose the Best Pickups for Bass Guitars
Upgrading guitar pickups can enhance performance and improve sound quality, despite some purists' objections (some believe that modifications devalue the instrument).
Active pickups offer more tonal options with a 9-volt battery and preamp, but can be tricky to install and monitor, while passive pickups have a simpler design and narrower range of tone.
Passive pickups are easy to install with a simple design, have respectable output, and a narrower range of tone compared to active pickups.
Active pickups provide greater tonal capability with a 9-volt battery and preamp circuitry, but the downside is that it can be difficult to install and monitor the battery.
Lithium 9-volt batteries have a longer shelf-life and gradual performance curve compared to alkaline batteries and rechargeable batteries, while active pickups offer tonal flexibility but require monitoring and unplugging when not in use, and guitar manufacturers offer custom pickups for those interested in modifying their guitars.
Here are the common types of guitar pickups:
J Pickups
A J pickup is also known as a jazz pickup, and it is part of the magnetic pickup category. Magnetic pickups have magnetic pole pieces in precise alignment under the bass guitar strings to obtain the sound through the air. They also capture the signal using their magnetic fields and transmit them out of the instrument through a cable to amplify the sound. You will get a bright sound from a J pickup that is sometimes aggressive sounding, so it is a good choice for rock or metal music.
J pickups are also popular with jazz bassists. In fact, J pickups come as a pair with one pickup on the bridge and the other on the neck. Also, the neck pickup is usually wider with the bridge pick more punchy and tight. In addition, there is a knob that bass instruments use for the dual J pickup configuration that mixes the signal that comes from each. This knob lets the pickups send in the right mix of sounds that come from the two different sources.
P pickups, or precision pickups, have a heavier, deeper sound for music that requires a deeper bottom end like rock, metal, and funk. Some musicians use the P pickup as a pair with one pickup on the higher strings and the other on the lower two strings. You can also set them up in a staggered configuration, as well as a dual coil humbucker setup.
Piezoelectric pickups are most common on acoustic bass guitars to amplify their signal, but you may also see them on electric bass guitars. Unlike the magnetic pickups that read a signal through the air, the piezoelectric bass pickups feel the vibration of the strings through contact with the string on the bridge.
This type of pickup can eliminate the buzz and hum that happens when you use a magnetic pickup. However, they can sometimes sound weaker and thinner than magnetic pickups. But to avoid this problem, some guitarists will use both magnetic and piezoelectric pickups to get the benefits of both pickups when they play.
Bladed Pickups
Bladed pickups are useful when you bend strings often because they pull the strings away from the pickup top pole style. Since pickups with a magnetic field extend beyond the metal head, your standard pickup should work just as well. Lastly, those guitarists who do a lot of string bending normally buy a higher output pickup anyway, so any benefits from a bladed pickup are void.
Passive Vs. Active Pickups
Passive pickups are made up of magnets under the strings of the guitar. As the string vibrates, the magnet creates an electronic field that translates into sound. Also, active pickups have a nine-volt battery that creates an electric field and they often come with a pre-amp. However, passive pickups tend to have a plucky sound due to their extra windings. But their poles give you a limited, but strong sound.
The magnets are what affect the sound quality, and steel magnets are generally for lower-end pickups. AlNiCo magnets are a mix of cobalt and aluminum, and they provide some of the best sounds. You will see them in different level ranging from I to V. For softer sounds, use II and III and for more treble, "hotter" sounds, use and IV and V. For a vintage sound, use II specifically.
Ceramic magnets are somewhat the same as A1NiCo, but they have less of a smooth sound. Also, they will have more of a screechy sound than the AlNiCo V's. Since there are fewer windings on active pickups, you will find they have a larger response range that can give you more tone clarity. Note that active pickups can interpret a larger tone range. Also, they can give you a preamp, providing more control of your guitar.
Best Pickups for Country, Metal or Rock
It is hard to say if a pickup is specifically for a music genre. This is because most guitarists use a variety of pickups across the genres. So make sure you do your homework to find the best pickup for you. One thing to determine early is how much distortion you want to use.
High-output pickups give you more distortion than a moderate-output pickup. You can also get distortion from a moderate-output pickup. However, it's just that a high-output pickup will get you there much more quickly.
Coil Size Matters
Single coil pickups were the only option for many years with one magnet under each string. Unfortunately, single coils are famous for pickup up radio frequencies and "humming." So the dual coil setup of a humbucker has a set of right-hand wrapped pickups and a set of left-hand wrapped pickups.
Interestingly, the two oppositely wrapped poles cancel out any radio interference. Keep in mind that single coils have a brighter tone, so they are better for single-string plucking. Also, double coils have more of a darker, full tone, too.
Parts of the String
The parts of the string matter, too. Your music will sound brighter if you play the guitar near the neck. And it will sound darker if you play down toward the base. Sometimes you will see a mismatched humbucker because a brighter sounding pickup is near the base and the darker sounding pickup is on the neck, so the tone balances out.
The top pick on this list of best pickups for bass guitars is the Nordstrand Big Split. It gives you the same large, full tone you get with the Nordstrand Big Single, but in a split coil version. One of the big differences is the Big Split has hum-canceling features. There is the same type of magnet layout as the Big Single. Also, the big coil in the Big Split is similar to any single coil pickup on the market. If you are jazz bass tone traditionalist, this is the ideal pickup for you.
This is a popular choice among bass guitarists including Dean Bernardini, Andy Cichon, and Owen Biddle. Professional bass guitarists have used these pickups to achieve their tone, covering a large spectrum of music genres. The Big Split can be used on four, five and six-string bass guitars. And if you like to crank your bass to the limit, this is the ideal pickup to get that jazz bass tone.
It is available in either the EMG or Bartolini designs. Also, they give your bass tone an awesomely powerful punch. The Nordstrand Big Split Soapbar Bass Pickup is available in the mid-$200 range.
Pros
Has a rich, full tone that is round and complex
Delivers a punchy sound
Cons
Other Products You May Want to Consider
The Seymour Duncan SMB4A Bass pickup is on this list of best pickups for bass guitars because it features Alnico magnets with unique coil windings. So the result is the effect of increasing the frequency spectrum on both ends that go out beyond the ceramic magnet variety.
Also, the Alnico version of pickup gives you a warmer bottom and a more detailed top. Plus it comes with a four-conductor hookup cable and a logo cover. For these reasons, it deserves a spot on this list of best pickups for bass guitars.
However, the Seymour Duncan SMB4A is a bit more specific than other pickups that can work with a wide variety of instruments. But Seymour Duncan created the SMB4A to go with the stock Music Man pre-amp and the selector switch they designed for a three-coil system.
They have wired the Alnico magnets together to give you a distinct setup that increases the frequency spectrum. In fact, it is much larger than what you would see with the pickup if it were the ceramic magnet version. You get a more detailed and articulate high end and a warmer low end.
If you are into blues, funk, rock, or music that needs a little more grit, you will enjoy the midrange that has more of a bite. This results in a warmer low end and a more articulate, detailed high end. The Seymour Duncan SMB4A is available for around $100.
Pros
Great lows, mids, and highs
Excellent tone, making your guitar come alive
Clear, crisp sound
Cons
A little on the large side
Lace created the USAB Ultra Slim Acoustic Bass Pickup Black specifically for the bass guitar. This is one of the best pickups for bass guitars because it has a slimmer profile with a height of 5/16th of an inch. That lets you have almost limitless uses for either the acoustic bass or the solid body bass. The Lace USAB single design works for either four or five string bass guitars, too. Also, you can mount the USAB Sensor onto the surface with mar resistant 3M adhesive tape.
You can also use the wood screws that come with the pickup. You can mount it permanently if you choose. The pickup is easy to install by sliding the pickup under the strings. Included with the USAB are a high-quality cable and a female endpin jack. The USAB is a humbucker design offers no noise operation.
Their new design also includes two Lace Sensor Micro Matrix Comb bobbins, plus eight triple ceramic magnets. And even though it has a passive design, you can still use it with an active pre-amp. The Lace Sensor USAB Ultra Slim bass humbucker pickup is versatile because it works with a solid body and an acoustic base. It is also adaptable and easy to install with no cutting or routing necessary.
The pickup has a sensitive nature that guarantees the signal will increase. Lastly, bass guitars with the Lace Sensor USAB will have a clean, clear tone, plus a punchy midrange. The Lace Sensor USAB is available for around $100.
Pros
Easy to install and works well
Powerful and a nice addition to any acoustic guitar
Great output and a lot of variation
Cons
Produces a buzzing or feedback sound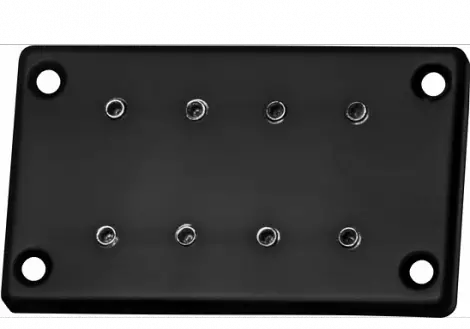 Another product that earned a place on this list of the best pickups for bass guitars is the DiMarzio Will Power DP145 Bass Pickup. Billy Sheehan used it extensively when with Mr. Big. Because of the demands Billy puts on his guitar, DiMarzio made many adjustments to their existing models. The DP145 is the pickup Billy uses with his signature Yamaha basses. It delivers a deep sound with exceptional, low-end definition.
Other musicians that use the DP145 is David Lee Roth and Steve Vai. The DP145 has the same dimensions as the Model One. But the pole piece spacing is a little bigger for easier string alignment for those long-scale basses. The DP145 is a humbucker that has four-conductor wiring.
You could call the tone you get from the DP145 larger and beefier. The low end is boisterous and thick, the mids are incredibly intensified. Also, the high end has a pumped up frequency range. The DP145 is available at the $100 price point.
Pros
Allows for several tone variations
Excellent adjustment capabilities
It is an improvement over the factory unit in sound quality
Cons
Requires a slight enlargement of the original pickup opening
The Seymour Duncan SPB-1 Vintage Precision Bass Pickup Set is a replica of the Leo Fender 1957 dual-coil pickup. It has the same hand-fabricated bobbins, plain enamel wire, and the same sand-cast magnets. The Seymour SPB-1 has a warm, woody tone. And it also comes with non-logo covers and a waxed cloth hookup cable.
Best yet, the Seymour Duncan SPB-1 will take you back to the 1950s in sound and appearance. So this set belongs on this list of best pickups for bass guitars delivers a punchy, warm sound. This gives you that distinctively smooth low-end on those lower frequencies. Finally, the Seymour Duncan SPB-1 is an excellent value.
Pros
Delivers a great classic tone
Has an even EQ curve to mimic vintage P-bass tones
Perfectly balances the solid bottom, as well as the sweet mids and highs
Cons
Not enough of a change from the stock pickups to be worth it
The EMG Geezer Butler Signature PJ Bass Pickup Set gives you that classic sound from back during Black Sabbath's early days. And this is a passive bass guitar pickup with Alnico 5 magnets. You get those vintage tones void of the noise and hum that you get with single-coil pickups. You will also appreciate the deep, tight sound of the tight low end. The output you get from this pickup is even and balanced.
Geezer Butler and EMG did a great job harnessing the powerful tones of early Black Sabbath. So it gives you driving punch and output, making it perfect for any type of music that likes a little extra bite on the low end. The Butler PJ is fully shielded, so it will operate without noise to clutter up the signal. Lastly, the EMG Geezer Butler Signature PJ Bass Pickup is available in the mid-$100 range.
Pros
Has a vintage sound, great for all styles of music
Easy to install with an amazing amount of versatility
Has a balanced tone
Cons
The shafts are solid but are a bit bigger than many knobs
The Fender Custom Shop 62 P Bass Pickups has cleverly reproduced their classic 1962 Precision Bass split-coil pickup. They offer it with flush-mount alnico 5 magnets, cloth covered output wires and enamel-coated magnet wire. This gives you that full and booming sound in the low end, a clear high end and a punchy midrange. It also has flush mount pole pieces on these pickups to pull an even response from your bass strings.
No matter if your bass guitar has flat wound or round wound strings, the Custom Shop '62 Bass pickups will provide an improved stock sound to completely transform your tone. They have included all the mounting hardware, as well. The Fender Custom Shop '62 Bass pickups are available in the low $100 range.
Pros
Has a great sound, improved tone
Excellent old school pickup
Makes a major difference in tone
Cons
Have a relatively hot output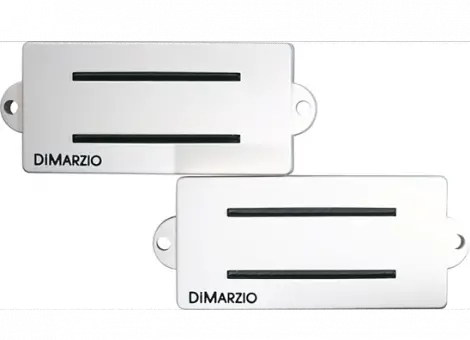 The DiMarzio DP127 Split P Replacement Pickup has a special double blade, making it a true humbucker. This pickup expands your bass guitar's range with EQ. This increases your high and low-end response. It also allows you to get a wider contemporary sound from the midrange.
It has a nice snap for a crisp attack. The DP127 increases your cool overtones to give you a large, smooth tone. The Split P is sensitive to finger and pick due to the blade pole pieces. The notes appear to sound louder in the high frequencies, so you can hear every articulation your make.
These are the best pickups for bass guitars if you want a booming low end and a strong attack. And the DiMarzio DP127 Split P Replacement Pickup is available just under $100.
Pros
It gives your guitar a punchier sound
Your playing will have a lot more character
You can set the volume of each string
Cons
It has too high of an output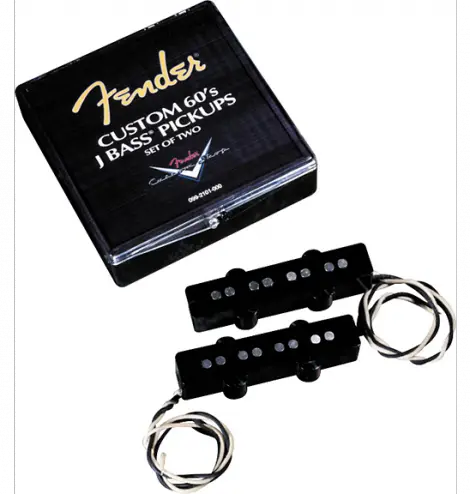 Fender modeled their Custom Shop Custom 60s Jazz Bass pickups after the vintage 60's pickups. However, they overwound them to make their pickups punchier in the midrange and low end. Fender uses Alnico 5 magnets and formvar magnet wire to create a sound with an extra thump and growl.
The flush-mount magnets guarantee that your string response is balanced across the board. This makes them one of the best pickups for bass guitars you have to hear to believe. Also, Jazz Bass pickups are easy to install.
Pros
Sounds great with an active EQ
You get that great classic Fender sound
Has a full, punchy sound
Cons
There is some hum when you play
The EMG JVX set of pickups has a mix of the new and old design ideas to provide classic tones, as well as the look of a traditional Jazz Bass. Yet the EMG JVX set still has the "faded" attack the offset pole pieces use. And they have mixed that with EMG's lowest-noise preamp they have. The EMG JVX bass pickup has a retro appeal, too.
Also, the coil and electronic design make a great upgrade from your stock pickup. The JVX gives you more headroom that gives voice to an open and organic tone. Yet it is still able to maintain the response and clarity that EMG's are known for, as well. This pickup can bridge the gap between active and passive tones, and it has over 1,000 hours of battery life.
The JVX is easy to install, too. You get a tight low end with punchier mids, and highs that have a glittery sheen. They add a lot to your overall picture without any hum or noise.
Pros
This is a quiet yet powerful set
You don't need soldering to install
Has a great, clean tone
Cons
There is not a lot of room for the battery
The wiring is a bit different
The DiMarzio's Ultra Jazz pickups are one of the best pickups for bass guitars because they increase that jazz bass sound. These pickups provide a wider range of harmonic tones that would normally lay inactive in their stock pickups. There is a tighter, thump like low end, and an additional punch in the mid-range.
The Ultra Jazz pickups get rid of the hum you normally hear with single coils. You also get improved sensitivity for any playing style. The DiMarzio Ultra Jazz pickups are available for just over $100.
Pros
Provides a clean, articulate sound
It gives you an amazing range of sounds
You also get perfect, bright tones
Cons
It is weak on the bass side
The Fender Pure Vintage 74 Jazz Bass Pickup Set has vintage bobbin construction with original-era cloth wiring. All Fender Pure Vintage pickups have the authentic, traditional Fender sound thanks to precise specifications. Plus, the versatile vintage voice gives you a warm, full low-end and distinct midrange.
The Fender's Pure Vintage '74 single-coil Jazz Bass pickups are for those who like to play with a soulful fingerstyle and a slap-style funk. These pickups are aggressive. The electronics are flush mount pole pieces. It also comes with enamel-coated magnet wire, and cloth output bobbin and wire construction.
When you combine these factors, you get a precise, vintage sound. The pickups also capture enhanced dynamics with an even, clear string response. This pickup set will take you back to that classic era of sound. The Fender Pure Vintage 74 Jazz Bass Pickup Set is a great value.
Pros
Easy to install and they included a wiring guide
It has an awesome vintage sound
You get beautiful, clean tones
Cons
It may be a little long for some guitars, so you may need to adjust this set
This list of the best pickups for bass guitars has a wide range of products and price points. So whatever music you play, you should be able to find the perfect pickup for you. Have fun experimenting with the sounds and tones you can make with your bass guitar.
The Competition
After hours of testing and research, here's the final competition.
Upgrades to guitars can be exciting, productive, and have long-lasting rewards if done correctly, as demonstrated by the modified guitars that are still going strong after years of use.