Have you ever been at a gig when it was raining? It is one of the worst experiences for a musician, especially if you cannot unload your gear in a covered area where it will not get wet.
I do not know all of the waterproof amp covers on the market, but I have been doing live gigs for quite a while, so I am familiar with quite a few great options that will protect your gear from any type of inclement weather. I also put a lot of time into finding some of the best cases and covers on the market so that you can simply read my guide instead of doing the research yourself. I prefer cases because they add things like padding and the ability to secure my amp, but there are some great covers that some local musician that I have spoken to recommend. Before taking a look at our top picks, let's consider the types of covers and cases that are available and some of the features that will make them better for your musical needs.
Since amps are required for your performance to be heard, you are not only going to need to protect your instruments, but you will need to ensure that your amps are not getting wet as well, especially if you are on the road a lot.
The best way to keep your equipment safe from the water is to place it in a weatherproof case or put a cover over it before you head out to your gig. This way, when the drops start falling from the sky, your amp is protected. You will also need to protect your amps from other things that can cause them to be damaged like too much UV light or being bounced around in your vehicle. After a lot of research, I decided that the Gator G-112A Rolling Amp Transporter was the best amp case for my needs, but if this option does not fit your amp, there are plenty of other options to consider.
Top Pick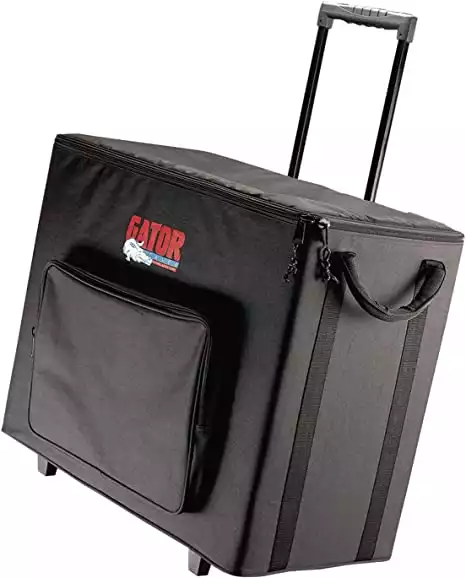 Types of Amp Covers and Cases
There are different types of covers and cases that you can consider to protect your gear from the rain, here are a few of the most common options to consider:
Covers – These typically have a simple design that wraps around the entire amp to protect it from the wind, dust, rain, and even sunlight. They are often made from a nylon material that makes them lightweight, but still durable. This is actually the most budget-friendly option, and the choice of many musicians who are just starting out choose to protect their amps.
Soft Cases – A soft case is much more durable than a standard cover. It is able to survive bumps and dings that could occur during travel easily. In addition, this type of case also often has handles, wheels, and additional accessories that make it easier to take on the road. Soft cases come in many sizes, so you should be able to find one that fits your amp with ease.
Tour-Style Cases – This is a hard case that is designed using plywood. It opens at the base of the case, and the top portion can easily be lifted right off of the amp. One of the reasons to get this type of case is because it may be more durable, have wheels, and be easy to set up for your gig.
Lunchbox Cases – This is typically a hard case that opens at the top, but some models are designed out of a softer material. It has handles and locks to keep your amp secure, and this type of case often has padding on the interior, which makes it an excellent choice for when you are on tour.
Flight Case – This is a case that is designed to be opened on the front and the back of the unit so that you can easily connect the amp and use it during a gig without entirely removing it from the case. This is an excellent option for a band that tours a lot because it will make it easier to set up. These tend to cost a little more, so they are not a common choice for beginners.
My Recommendation
Top Pick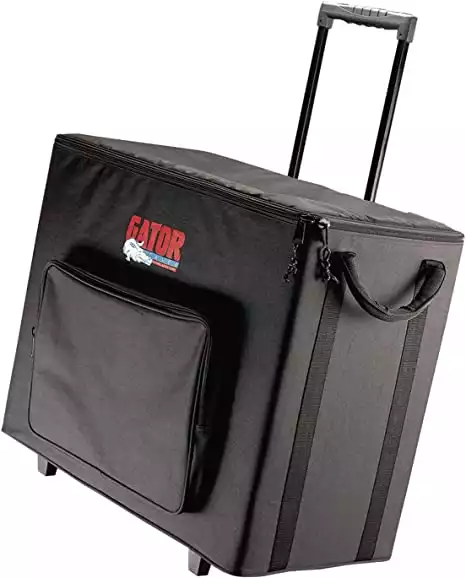 After a lot of research, the product that I have decided is best for my needs is the Gator G-112A Rolling Amp Transporter. I really love how portable this unit is; in fact, I believe that it makes an excellent option for any traveling band. The unit rolls very similarly to a suitcase, so once the amp is packed in the case, you can easily tilt it towards you so that only the wheels touch the ground. These are heavy-duty wheels, so you will never have an issue traversing across gravel or other rough surfaces. There is also a telescoping handle that you can use to pull the case behind you. To help protect your hands while you are rushing to set up your gear, there is a crush guard on the handle that will protect your fingers as well.
The look of this case is one of the best that I found during my search. The exterior is made from rugged nylon that is designed to cover the wooden frame of the case. It is designed to protect the amp inside the case from any inclement weather, and this material is so durable that it will not fade in the sun. There are handles on the sides of the unit, which make it easy to shift the case if you need to while your amp is inside. These handles are reinforced so that they remain usable for years. There is also a small pocket on the front of the case that you can use to store your wires so that they are close at hand when it is time to set up your stage.
This case is 25 inches long, 12 inches wide, and 19 inches deep, which means that it can fit a pretty decent sized amp. Inside, you will notice that the interior is comprised of foam that is about 20 mm thick, which will help to protect your amp from any bumps that may occur on the road. I really like that this is a case that you can use during your gig. In fact, the case has a hard top that allows you to place your amp right on the top. There are even support rails that outline the amp so that you can be sure that it will never slide off of the location that you put it because of the vibrations that your music creates.
Runner-Up
Runner Up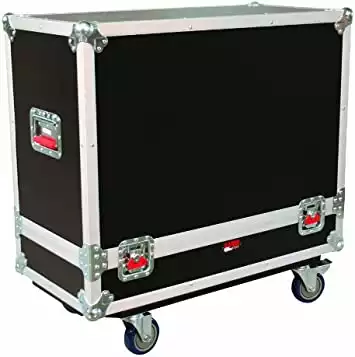 The Gator Tour Style Amp Transporter is another excellent case to use when you are traveling because it is a solid amp case that is made to be durable. In fact, it is constructed using plywood that is 3/8th of an inch thick, which means that it will not take damage easily, especially with the padding that is inside of the case. The padding is not attached to the case itself, but it is designed to interlock so that you can place the padding inside the case where it will be the most effective. Also, this foam comes in different sizes so that it can accommodate a number of amps, regardless of their size.
I personally love the way that the exterior of this case looks. It is a hard black plastic material that is surrounded by sleek aluminum edging that will help protect the case further. In addition, this case has a lift-off lid design that makes it easy to use the amp that it is protecting without fully removing it from the case. The lid is secured with butterfly latches that are simple to open. Once that is done, all you need to do is lift the top using the handles on the side of the case. The interlocking foam that comes with the case can also be used to secure the amp while it is on stage.
This is an amp case that is designed with heavy-duty wheels that you can use to move the amp when you need. Two of these wheels lock in place, which means that if you are using the amp while it is in the case, you can be sure that the vibrations from your music will not cause the case to shift.
Other Amp Covers and Cases to Consider
Since I was looking for weather-resistant cases during my search, this one from Orange Amplifiers really caught my attention. It is a semi-hard case that is made using a nylon material that is designed to be very durable. If you get caught in the rain, the water will just bead off of the case, which will protect the amp that is inside. The interior is padded to ensure that it protects the amp from bumps that happen as you travel to your gigs. The nylon material is also resistant to rips, which means that it should last you for quite a while.
This amp case is specifically designed to fit a few of the company's amps, but it will fit amps of a similar size as well. The case even has the Orange logo on the front, which looks great on the exterior of the case. There is even a slot in the material where you can easily slip the handle of your amp into the space to make it easier to manage moving the amp.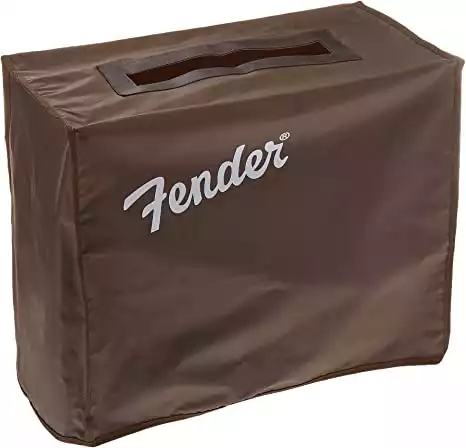 If you are looking for a reliable cover that will not break the bank, I really think that this one is going to be a great option. It is a great weatherproof option that will protect your amp. In fact, the rainwater tends to bead right off of this type of material, especially if you use a waterproof spray on the exterior surface. Also, the cover is made from a thick, rugged vinyl, which is material that is not going to rip easily.
This cover is also designed to protect your amp from the sun's intense UV rays, which means that even if you leave it in the sun for several hours, the amp will never fade or become discolored. The only thing that this cover does not do is protect your amp from bumps that you may encounter on the road. To make sure that your amp does not take damage when you hit a pothole, you can secure it in your vehicle before you pull off of the lot. This cover is designed for a junior amp so it may not be able to accommodate amps that are a larger size.
As another Gator Cases product, this one is a lunchbox style case that is designed for midsize amps. It has smaller internal dimensions than many of the amp cases that we have looked at, but at 17.5 inches by 10 inches by 10 inches, it should accommodate quite a few amps. It is also the perfect size to use as an accessory case, which is why I would recommend purchasing two of these, especially since it is relatively inexpensive.
The main part of this case is black, while the trim along the edges of the case is metal. This is a design that is quite durable. It has plywood construction, and there are even balls on the corners of the case that are designed to protect them from damage. There are two latches on the unit that are designed to keep the lid of the case secured when it is not in use. Since this is a smaller case, there are no wheels on the model. However, there are handles on two sides of the case as well as on the top to make it easier to carry.
(Click here for a list of the best lunchbox amps.)
If you are looking for a simple amp cover that will fit your mini amp, then the Fishman Loudbox Mini Amp Cover may be precisely what you are looking to purchase. I absolutely love the material that is used to craft this case. It is made from a ballistic nylon material that is 600 denier. It is excellent for keeping your amp dust free, and the material will also protect your amp from the rain. There is no internal padding in this case though, so it may not be the best if it is going to take some abuse on the road.
The aesthetics of this case are exceptional; it is a black material with a contrasting white Fishman logo on the front. The edges are designed with piping that will help protect your amp as well as give you more of a unique appearance than many of the other cases on the market. On the top of the case, you will notice that there is a slit in the material. This is designed with the intended purpose of the amp handle sliding through the cover so that it can easily be carried from gig to gig.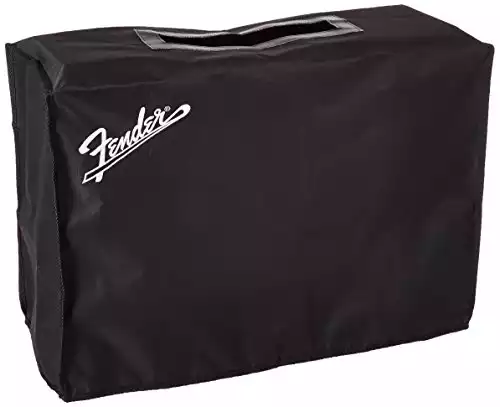 If you are looking for a cover to accommodate a 12-inch amp, then this model that is made by Fender is a great one to consider, especially if you are looking for a weatherproof solution that can protect your amp while you are on the road. The cover itself is made from a durable vinyl material that will easily protect your amp. It will keep it from getting scratched and damaged between gigs as well as protect it from the rain. This cover reminds me of a tarp; when it rains the water simply beads up and runs off of the surface so that your amp never gets wet.
I love how easy it is to put this cover on an amp, and it has a slit in the top that is designed to make it easier to manage. All you need to do is pull the handle through the slit, and you can use the amp handle to carry the entire unit. There is also a Fender logo in white on the corner of the amp cover, which is only there for style and brand recognition that you may want when you are on stage.
The final amp case that we are going to look at in this guide is one that has a completely hard exterior. The case is extremely thick, so it will not only protect against inclement weather, it will protect any amp that is inside the case from speed bumps or potholes on the road or anything else that could happen to your amp during your travels. However, the interior padding is not as densely packed with foam as it could be, so it could take damage from a fall.
This is a case that is designed so that your amp can be used while it is in the case. This means that the top simply lifts off of the case, while the amp remains on the bottom platform. This section of the case will have durable, three-inch wheels that you can use to position your amp on stage or move it across the pavement when you are trying to bring your equipment to the stage to prepare for your gig. There are even two handles on the side that you can use to make it easier to remove the top or move the amp and the case across the stage. When you are ready to pack up after your gig, there are two locks on the case that you can use to secure it.
Why is an Amp Cover or Case Important
Even though amps seem like they are very durable devices, it is essential to make sure that they are protected, especially if you and your band travel a lot. Some amps can cost quite a bit of money to purchase, so you want to protect them during your travels to make sure that you do not cause damage to your gear that will make it so that you need to purchase another one suddenly for your next gig. The right case can protect your amp form the rain, dust, sun, and other things, so it is essential that you invest in one to protect your amp rather than spend money replacing one that got wet in a sun shower.
Choosing the Size
Remember, not all amps are the same size, so before you decide that you want a specific case, you are going to need to make sure that the case can accommodate the dimensions of your amp. There are cases and covers on the market that are specifically designed for junior amps, bass amps, head amps, and more, so you will have plenty of options when it comes time to look for a one for your amp.
Additional Features
Now, of course, the size of the amp case is important, but you are also going to need to consider a few other features that you may want your case or cover to have. Let's take a look.
Durability – Of course, your primary concern when you purchase one of these units is protection from the elements, but you also want something that is going to be durable enough to take a few falls without damaging the amp that it is supposed to be protecting. Traveling and touring can put a lot of stress on your gear, which is why hard cases tend to be the more popular option amongst bands.
Padding – Padding is another option that is going to be great for your new amp case. It will provide your amp with extra protection, so if you hit a pothole in the road while you are traveling or you take a turn too fast, and the amp falls over, it will not be damaged. Most of the cases on the market have thin padding so that the case can still be relatively compact.
Wheels – Some amps can be rather large, which means that when they are in a case, it can add 30 pounds to the weight of the amp. One way to make sure that the amp and the case are still easy to maneuver while you are touring is to find one that is positioned on wheels. You may still need to lift it out of your van or bus, but once it is on the ground, it can simply be rolled to where it needs to be for your gig. The wheels may vary in size based upon the size of the case, so make sure that the one you decide to purchase has wheels that are large enough to traverse through gravel.
Handles to Carry – Many of the smaller amp cases and covers are designed with handles or at least a slot where the amp handle can be accessed. This makes it easy to carry more than one amp at once, which will cut down on your set up time.
Locks – Some cases are built with locks that allow you to secure your amps. These are mainly on hard cases, so if you want to ensure that your gear is secure, this may be something worth considering before you decide which case is going to be best for you.
Brands to Consider
It is essential to consider the brand that you are going to choose for your amp case or cover because the well-known brands are more likely to give you a durable product that will be great for protecting your gear. That being said, this is not always the case, and sometimes you can find a lesser-known brand that gives you a better product. Fortunately, there are ample brands to consider during your search; here are a few of the brand names that you should take some extra time to consider:
Boss – This company is well known when it comes to audio equipment and speakers, but it is a brand that makes exceptional cases and covers to protect your audio gear as well.
Fender – Fender is an iconic company when it comes to guitars, so what better company to consider for products to keep your guitar amp safe. They have been around since 1946, so you can really trust this brand when it comes to your musical needs.
Gator – Gator is a company that specializes in making cases for your music gear, so you will be able to find a case in any size, shape, or color that you want from this company. In fact, many of their amp cases are designed to be stacked, even though they have wheels, which is ideal for a band on the go. When it comes to utility needs, gator has been on the scene since the year 2000.
Markbass – If you are looking for bass amplification or products to help protect your bass amp, then Markbass is a company that is going to have plenty of great options for you to consider.
Orange Amplifiers – Orange is a company that is well known and recognized as leaders in the amp industry because they offer a lot of quality units. The same can be said for the cases that they create for their amps.
Roland – Roland is a company that has been part of the music industry since 1970. They are big into pro audio and production devices, which means that they are an excellent option for amps and accessories that you will need for your gig.
SKB – SKB is a company that specializes in cases of all types. This includes guitar cases, camera cases, gun cases, bow cases, and of course amp cases. Their cases are made sturdy so that your gear is always protected. They have been around since the year 1977, and their products continue to be quality cases that a musician may find to be useful.
Bugera – This is a brand that mainly deals with amplifiers. This includes both guitar and bass amps as well as accessories that you may need to help maintain the amps that you purchase from them.
Pedaltrain – Known mostly for pedalboards and cases, this is a brand that you will want to consider. They have both hard and soft cases so you will have plenty of options to consider, even if you are on a budget.
Wrapping it Up
Since an amp is required to amplify your instruments at any gig, you are going to want to protect your amps just like you would your instruments. In this guide, I have reviewed quite a few weatherproof amp covers and cases that you can use when you are on the road. My top pick may not suit your needs, but I hope one of the options that I have presented to you will help you protect your amp in the future.