Does the bench you sit on really make much difference in how well you play the piano? Is there one bench that is best for every pianist to use? How do you know what is important and what is not? Choosing the perfect portable piano bench can make a big difference in your practice sessions and performances.
Picking a stand from many options available can be overwhelming without being informed or having specific qualifications to look for in each one. Children and adults alike need a quality product to play their best at the keyboard.
We have researched the best piano benches and compiled a list highlighting our favorites, of course including details and reasons for each, along with tips on finding the best portable piano bench for you.
Comparing a total of twenty keyboard benches with a particular set of deciding criteria in mind, we sorted through them to pick several of the best pieces of equipment to meet the needs and desires of pianists from the beginning stages to professionals.
We thoroughly researched each competing product, and I tested the top picks myself. Experience playing the piano for over twenty years and teaching lessons since I was sixteen was helpful as I considered the benches available and the likely needs of different types of keyboard players.
After narrowing down the list of benches to include those with the best features, I spent time sitting on each of the top seats while playing and learning about them first-hand to check what I had read about them.
As a teacher, I remembered past experiences with a wide variety of my students to broaden my point of view and create criteria useful to more musicians than just small, short girls such as myself. All the research and first-hand observations involved brought us to the following conclusions for each bench.
My Top Pick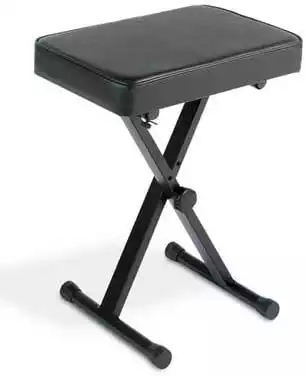 Yamaha PKBB
This seat is lightweight, yet sturdy and stable. As a bonus, ultra-thick padding makes it comfortable as well. Great choice for pianists looking for something more mobile.
Adjustable Padded Keyboard X-Style Bench, 19.5 Inches
Check on Amazon
Check on eBay
Of all the benches assessed, the Yamaha PKBB1 portable piano bench is my top choice. This bench has many desirable qualities and fits the requirements of a variety of musicians.
To begin with, it is a lightweight, yet sturdy and stable option, supporting up to 250 pounds. Only one person is needed to carry and set up the bench quickly. It also has three height options between 17.5 to 19.5 inches. Of course, this may be shorter than some taller musicians may prefer, but still is great for children and most adults. I love this feature because it makes it possible to get the perfect height for my own petite, 4ft 11in frame and then simply adjusted to a different height for someone else very different in appearance.
I love the ultra-thick padding as well. Although the thickness could be mistaken for a very soft, squishy cushion, it surprisingly still holds a firm and supportive texture, nice for sitting at your instrument for lengthier amounts of time.
This is a great choice for pianists looking for something more mobile too, as it folds up flat for traveling or storage. It can easily fit in very small cars and does not require any special equipment to set up and take down. Even for people wanting to organize or make more space around their piano, the fold up feature can be quite handy.
For all of these great details included, I would be willing to pay for a more expensive bench, but that is not necessary. This seat happens to be an affordable selection, meeting the last criteria of pricing. Extra points for being reasonably priced and still excellent design and quality!
And to top it all off, this bench is made by a trusted, top brand known for their quality products. The Yamaha PKBB1 is even a Yamaha best-seller. Overall, considering the quality of the build and desirable features, this is my pick for the best piano bench.
My Runner up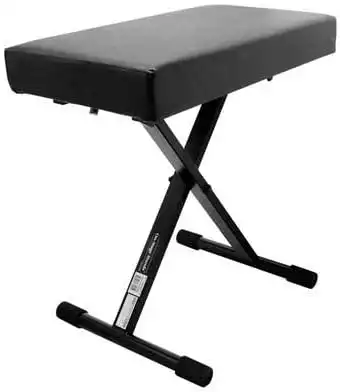 In second place comes the On Stage KT7800 Plus, a modern, up-to-date looking bench. Similar to the Yamaha BKBB1, this option is easy to set up and use, and it folds flat when not in use. It also is well-padded and comfortable for playing over a long period of time.
The greatest advantage of this seat is its durability and size. Granted, this could also be a disadvantage if the bench is to be moved around frequently. Yet the wide seat, weight limit, height settings, and extra strong locking system work well for heavier and taller pianists.
The 23.5-inch length and weight limit of 360 pounds provide a more ample surface to sit on. The height options are also designed to accommodate the need for a taller bench, with four heights between 19.5 and 24.5 inches. In addition, a secure deadlock system provides increased comfort and support.
Definitely an excellent choice for bigger than average pianists or teachers concerned about supporting their students, On Stage has a great product.
Other Seats to Consider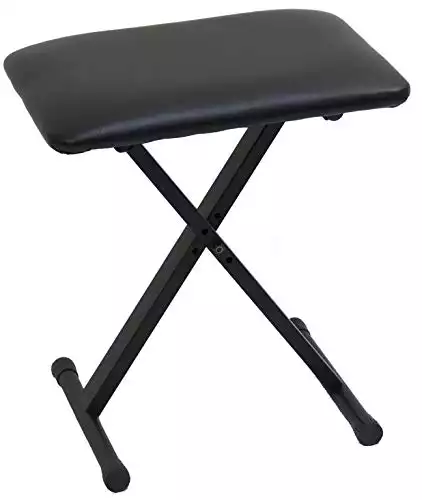 The Ohuhu bench is a great option for a tight budget if you need something less expensive. It may also be a nice temporary bench for young children as they learn if you are worried about them taking good care of something better. It is comfy, easy to use, and sturdy.
The downside of this bench is that it is smaller than many and is more like sitting on a stool at your keyboard. However, this does allow for it to stay out of the way more and take up less space, even when completely set up, and it is very easy to transport.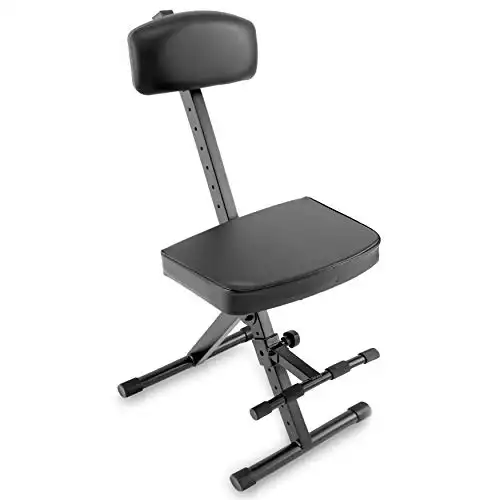 This bench is a smaller single seat with an optional back. Most keyboard players don't need or want a back for their seat, but it does create a more versatile seat. If you want to use your piano bench for more than just practicing the piano and don't mind spending more for it, check out this chair.
It could be used for playing other instruments and as a regular chair as well as for the piano. It includes a padded seat, back, and footrest, and folds up to be able to store or travel with.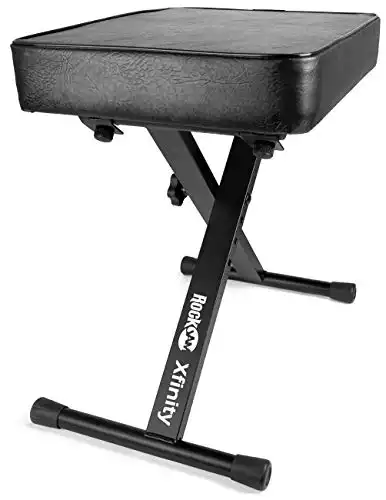 The Rockjam bench has a thick, tear resistant vinyl top, making it a good option for players who need a bench that will not be so easily ruined by children, pets, weather, etc. The tough vinyl over a comfy padding, reinforced steel base, and non-slip rubber bottoms work together to lessen such worries.
This is a simple, reliable seat that will last a long time for any performer. On the other hand, it's metal construction is lighter, but should be good for most people.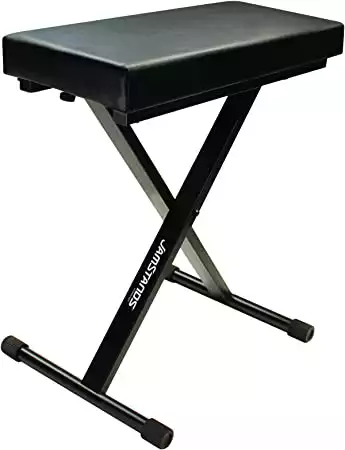 Although not as portable as most keyboard benches, this Ultimate Support bench has a big advantage by being the same size as a standard stationary piano bench. That is, with this bench, you have the option of fitting two small people on the same bench for duets or just more space for one person to sit more comfortably.
It is built to be robust and strong. Unlike a typical portable bench, the larger size does make it harder to carry or move, though.
The Importance of Using a Good Bench
A good bench is a key factor in determining the position of your body when seated at the keyboard. A good bench will be sturdy and supportive for you. Proper seating and position to the instrument is often the first thing a beginning musician learns because of the big influence this has on the long-term ability to play well.
As you play the keyboard, there are several important places to check for proper posture. Look for an "S" shaped spine, relaxed arms and hands with the lower elbow just above the keys, and easy movement at the hip joint. The perfect bench height will create a parallel line between your forearms and the floor when the upper arms are in a relaxed position.
You can learn more about how to sit at the piano in this video:
Playing the keyboard with an incorrect seat height or bad posture can cause unnecessary pain and lead to injury while playing the keyboard with correct posture increases your ability to breathe deeper, improve relaxation, and move more freely.
Likewise, a quality, durable bench is also desirable. Having a bench break under a larger student or break as you are setting up to perform can be frustrating and embarrassing. A solid bench sized correctly makes a big difference for pianists, especially over time.
Deciding Your Needs
Keep in mind the following questions to establish what your own needs are. Are you just beginning to take lessons? Do you need a sturdy seat for on-stage performances? Do you have children that play the keyboard? Are you a teacher looking for something big enough to sit two people? Are you or anyone else who will be using the bench a little weightier? How tall or short are you?
Although we have chosen two of our favorite keyboard benches to focus on, not every musician has the same needs or will be using their bench for the same purpose, so it is important to know what you need before you can know what to look for.
Criteria to Consider
Now that you know the purpose of your bench and what it will be used for, work with criteria such as these to determine if each bench will be a good fit for you: size and weight limit, ease of adjustment, padding and comfort, the effort needed to transport, and the price tag.
First, acknowledge the individual(s) who will be using the bench. For instance, an average size person using the bench for only themselves will probably find that just about any piano bench has a good height option for them. However, for a parent with young children that will be playing or for any adult bigger than average in height or weight may be interested in looking for something specifically designed to reach higher or lower than standard sizes.
Adjustability – Look for the capacity to adjust to different heights. Notice how difficult it is to change and how many options there are. This can be especially useful for music teachers so that they can easily change the seat to meet the needs of many different students.
Padding –  Consider sitting for a long playing session on a piano bench that is either rock-hard with no cushion at all or is so fluffy that you sink low, down into the softness. Decide how much of a cushion and what kind is right for your comfort.
Portability – check out how much effort is required to move and assemble the bench. This might include how heavy the seat is, any features simplifying set-up, and whether or not it will fit in your vehicle. Obviously, this isn't a concern for a bench that will always stay at the same keyboard in your home but is valuable for a professional traveling to gigs often.
Price – consider the amount each bench you like costs. Is it worth it to spend a lot to get exactly what you want? Or are there two benches you like equally with different price tags? All of these criteria were taken into account as we compared and selected our top portable bench choices.