We know that drummers can be extremely picky when it comes to the drums they will use. It's no different when it comes to bass drums. That's why we spent a lot of time reviewing the various bass drums out there in an effort to select only the best to recommend to you.
Top Pick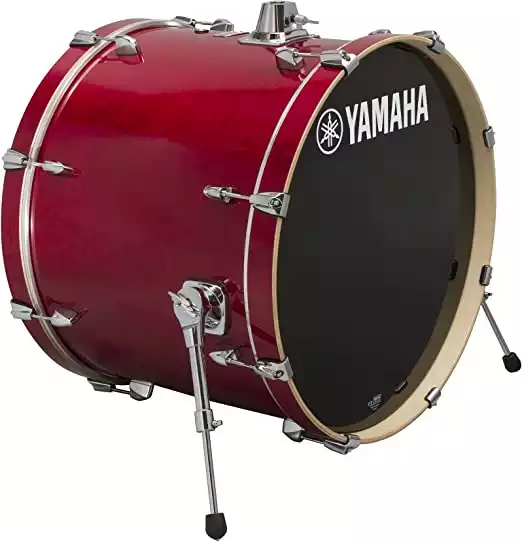 I spent hours sifting through many different bass drums currently available on the market and here are the five I liked the most and felt confident in recommending to our readers.
After carefully reviewing many different bass drum choices, there's no question as to which bass drum is our number on choice. The Yamaha Stage Custom Birch 18×15 Bass Drum won our vote hands down.
First, we love that this drum is a solid drum made with a complete birch shell. We found all the various finishes available very stylish, but we personally fell in love with the Honey Amber finish.
Enough about the outer appearance, this bass drum produces the best sound we have heard among the drums we compared.  It's easy it is to tune these drums to achieve the tone you're looking for. The leg stoppers included are also convenient for setting the drum down by itself.
This drum would be a suitable option for both beginners and advanced drummers.  Our only complaint is with the mounting system. It works but is on the cheap and simple side.
From the quality, sound, looks, and adaptability we were very pleased with this bass drum. The price made it a no-brainer as well.
While we already chose the 18×15 model as our number one choice, we felt the 22×17 model was also worth mentioning to our readers. We really liked the colors available for this drum.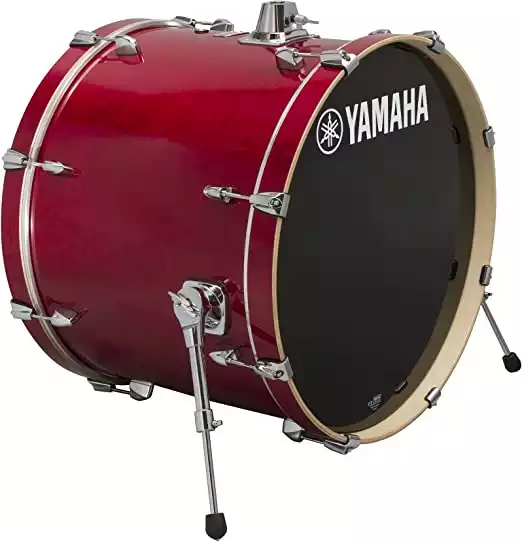 It's a little bigger than the other Yamaha we previously recommended and also includes die-cast brass drum claw hooks. These drums sound great and tune with ease, which is great when trying to find the tone you're looking for.
While they can be used for many styles of music, they really sound great for bop, funk, and soul. The sound is great as expected from Yamaha.
One thing we did find with this model is the response seems to be a little dull and you almost need to bang on them in an effort to get the snares to wake up.
While we were completely satisfied with our number one choice, we had a very close runner up. The Pearl Vision Birch Bass Drum is made by another well-trusted brand.
This drum is also a complete birch shell producing great sound. The tone is very well balanced matched with low-end projection. This drum is a top choice and almost made its way to our number one spot, but the price of this drum is what landed it in the number two spot instead.
While it is a more affordable all-birch drum by Pearl, there is an almost $150 price difference between the Yamaha all-birch and this Pearl all-birch. It's a great bass drum for those who are not on a budget.
This is the bass drum we chose as our runner-up for the number one spot and with good reason. We loved this drum set. Not only are they appealing to the eye, but the sound output is very nice.
You get all that you would expect from Pearl. We really liked the sleek design of this bass drum and that it's made by the well-trusted pearl. We are confident that this is a high-quality drum that won't disappoint.
We also liked how balanced the tone is. The low-end projection can accommodate the high frequencies that can come from smaller drums.
While this is a more affordable all-birch option offered by Pearl, we do feel there are some more budget-friendly options available by some other brands. Overall, we were completely satisfied with this drum. It can be found for around $500 and the instructions are very easy to follow.
Other Drums to Consider:
This is just the batter head, but still a solid choice if you're looking for a bass drum head that is affordable that is good quality with a good sound output. This drum head is perfect for anyone looking to for power kicks.
We were very impressed with the sound produced by this bass drum head. Evans is a very well-known brand when it comes to drum heads and they have a wide selection of bass drum heads. The sound produced is very moving making you want to keep playing all day long.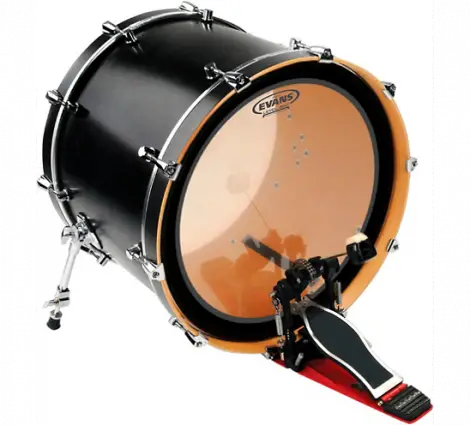 We were also very satisfied with the cost, at just around $30 plus shipping. Buying just a drum head is a very affordable option and you will be satisfied with the sound you hear when you put this drum head to use.
The only thing we can find as a con with this is that it is just a drum head. This isn't necessarily a bad thing. This means it's interchangeable with your already existing drum set.
We do think that the descriptions we found online for the various places it's available to purchase do not clearly outline this as just a drum head. Many might think they're getting an actual drum. Outside of that, we were very impressed with this bass drum head overall.
How to Choose a Bass Drum
Your bass drum can make or break your music, which is why choosing the right bass drum for the type of music you will be playing is a must. Each style of music has its own type of kick in the bass that is special to the style of music you are playing.
Style
The number one thing you want to consider when choosing your bass drum is what style of music you plan to play. The bass is what most people notice first when listing to music, which is why carefully selecting the right bass drum for your style of music is so important.
Think about all the different types of music you listen to. In hip-hop, the bass is very rumble while in dubstep it's more short and punchy. Every style of music has its own type of bass.
Kick
You also want to pay attention to the tail length of the kick for your music. This is how long your kick lasts when you're playing.
When you're choosing your bass drum, you will want to consider if there are any enhancements that will be necessary for your music. This is usually only important for experienced drummers who play at gigs or do any production work.
Tune
As you're considering which bass drum is right for you, it will be important to know how easy to tune your potential new bass drum is. You will want something simple and quick to tune, especially if you play at a lot of gigs.
Brand
When you're shopping for bass drums, you will want a drum you can trust will last you. The best way you can do this is by choosing a well-trusted brand.
There are many different brands that are known as top drum manufacturers such as Yamaha, Pearl, Evans, and Pacific Drums to name a few. Looking at popular brands will help you feel confident you're getting a good, quality drum.
In addition to looking at popular brands with a solid reputation, you should also consider your budget. Bass drums can be found available in a wide range of prices. Regardless of your price range, you should be able to find a bass drum that is both good quality and within your budget.
Bass Drum vs. Double Bass Drum
Many bass drummers have been faced with the choice of a standard bass drum or a double bass drum. A double bass drum is common in certain types of music such as hard rock and heavy metal.
Double bass drums are also sometimes used in some forms of jazz, fusion, and punk. Double bass drums come in two forms; two single bass drums or two pedals on one single bass drum.
Double bass drums first came around in the 1940's but gained their popularity in the 1960's. They began in jazz music, but their popularity climbed with their use among rock drummers.
Depending on the type of music you play, a double bass drum setup may be the perfect setup for you. If you're on a budget and want to give a double bass drum a shot, we recommend the two pedals on a single bass drum.
While this does seem like a lot to consider when choosing a bass drum, it is important to ensure you are choosing the right bass drum for your music.